Enjoy this Morocco itinerary 5 days Sahara adventure with Quad bikes and sandboarding, discover the beauty of south Morocco, explore dirt roads, oases, green valleys, gorges, dunes, mountain passes, picturesque UNESCO mud-brick kasbhas and more.
This Morocco itinerary 5 days desert tour from Marrakech will take you over the great High Atlas Mountains and through the Tizi n'Tichka pass to the charming 'Hollywood of Africa' city of Ouarzazate & the UNESCO famous Ksar Ait Benhaddou. You will be captivated by the remarkable Atlas Mountains, wondrous landscapes, deep gorges, soaring cliffs, valleys, luscious oases and unique rock formations.
Witness the UNESCO protected Oasis of Skoura and pass through amazing gorges, Berber mud villages, reaching the Sahara stunning dunes of Erg Chebbi. Visit a nomad family, share a cup of tea with them and discover their lifestyle.
Enjoy desert adventures and a monumental desert trek by camel into the iconic Sahara where you will enjoy a spectacular overnight stay in a desert camp under the milky way stars and may avail yourself of sand boarding and quad bike riding the golden orange Sahara dunes. Witness the beauty of the Draa Valley and the stunning Anti Atlas mountains.
This Morocco itinerary 5 days to Sahara offers a taste of Morocco, from mountains, gorges, valleys to the Sahara, with many interesting stops along the way. The highlight of this tour is a thrilling and unique overnight stay in a Sahara desert camp and a camel trek along the shimmering sand dunes of south Morocco.
TOUR ITINERARY
" Please click on each section below so that the details of each day of this Morocco itinerary 5 days from Marrakech will appear "
Day 1: Marrakech » Ksar Ait Benhaddou » Rose valley » Dades valley :
• After breakfast, your Grand Morocco English speaking Guide/Driver will pick you up from your accommodation, to embark on this Morocco itinerary 5 days desert tour from Marrakech. You will begin the journey through the dramatic landscape of the High Atlas Mountains, passing through the mountainous Berber villages and over the 2,260 M altitude, Tizi n Tichka Pass.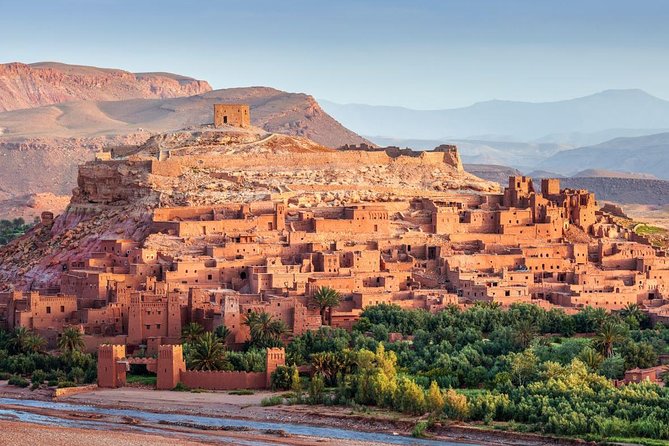 • In the High Atlas Mountains, you will stop for a short visit to a women's Cooperative, to observe the production of the world famous Argan Oil. This will enrich your minds more re this wonderful and treasured Argan tree, which grows only in Morocco and has many benefits. The Argan tree is registered as Bio-patrimony Heritage by UNESCO.
• Driving down from the High Atlas Mountains, you will be enchanted by the spectacular scenery of mud-brick villages and green valleys en route to the famous earthen fortified, Ksar Ait Ben Haddou, one of the most eye-catching filming locations in Africa.
• There will be a stop for a walking visit to explore the 17th century UNESCO World Heritage site of Ksar Ait Benhaddou, listed in 1987. This Ksar or village is one of the most intriguing of the red earth castles lining the ancient road of the camel caravans and it is the oldest mud village in Morocco. It was once a commercial hub for trans Saharan caravan traders and has been the back-drop for many international movies, such as Gladiator, Game of Thrones, Prince of Persia, Indiana Jones, Kingdom of Heaven and many more.
• After lunch, you will drive to Ouarzazate city, known as the "Hollywood of Africa" and the gateway to the Sahara Desert. It was a former caravan town on the silk and salt route in the eastern foothills of the High Atlas Mountains. There may be an opportunity for photo stops and visiting one of the many 'Atlas' cinema studios.
• Continue through the "Road of the thousand Kasbahs", the iconic Berber mud brick villages and earth castles to the Oasis of Skoura. This oasis is UNESCO protected and is famous for its numerous Majestic Kasbahs and here, you will stop to visit the iconic 17th century Kasbah of Amridil, an ancient fortification providing visitors a glimpse into life in rural southern Morocco.
• Amridil Kasbah was founded over 300 years ago and is largely unchanged today. It is one of the living museums of Morocco and is the ancestral home of the Nasiri family. The present generation of the family live on site, have a museum of ancient Moroccan artifacts as part of the Kasbah. In ancient times camel caravans of gold, spice, slaves, salt and other cargo off-loaded in Skoura, after many weeks trekking across the desert from several sub Saharan countries e.g. Mali, Senegal, Ghana and Sudan…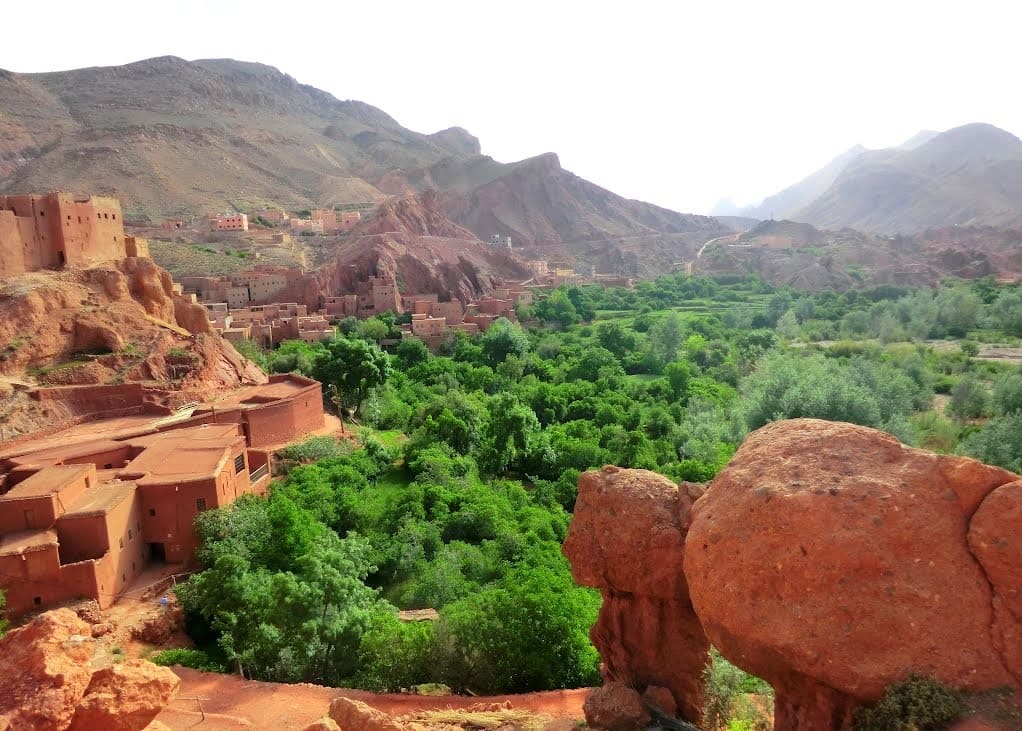 • From here, you journey through the stunning valley of roses in Kelaat Mgouna. This town is known as the Rose Capital for the famous Damaskina roses, also known for the annual festival during the rose harvest in May each year, when Miss Rose of Morocco is chosen.
• Continuing your Morocco itinerary 5 days desert tour from Marrakech, you journey towards one of the most beautiful valleys in the Kingdom and enjoy colourful Berber mud villages overlooking the amazing Dades Valley. Here there is a stop to discover the amazing rock formations, known as "monkey toes" or sometimes monkey fingers. These extraordinary rock formations are metamorphic rock, which has been severely eroded by rain, water, wind and possibly sand storms over thousands of years.
• The Dades valley prides itself for the extensive production of wall nuts, groves of palm and almond trees. It was the site of ancient nomad crossroads and the valley is dotted with oases and mud brick Kasbahs which gives the region its fairy tale nickname. (Overnight in Dades Valley).
Day 2: Dades valley » Todgha Gorges » Sahara Desert :
• After breakfast in your accommodation, you depart the spectacular Dades valley, and move on towards Tinghir, where there will be a deviation to a minor road following the river of Todgha Gorge. Contemplate the scenic panoramic views of the old Jewish and Berber mud villages, overlooking the valley. Some time at leisure, to enjoy the immensity of the huge red cliffs of 400 M, where many international rock climbers come to enjoy their preferred sport.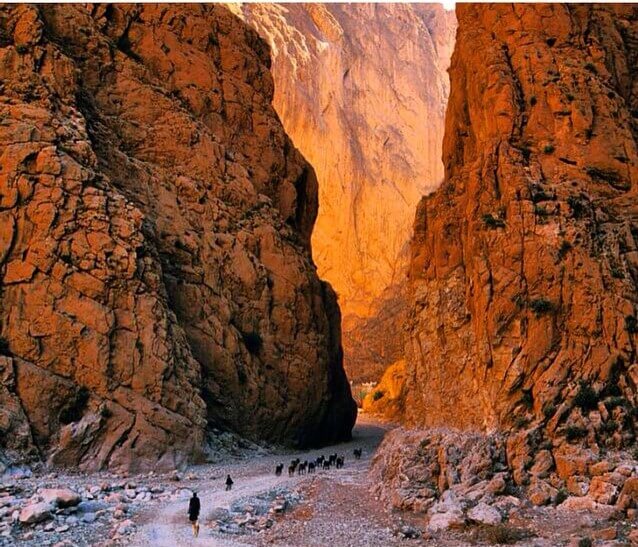 • The Todgha Gorge is recognised worldwide for being one of the most spectacular rocky canyons. No wonder this place has been used for filming many movies due to its magnificent natural setting, one of the most famous movies being the "Mummy".
• In this area, lives a large community of Berber nomads. Sometimes, you can sight Berber nomad women, who have Berber tattoos on their faces. They may be seen herding their goats to drink water at the river's edge and collecting their own water which is carried by their mules back to the caves where they live.
• After lunch, you will continue the trip to Erfoud, known as the capital for dates(fruit) and a global entity for fossil stones, famous for amazing fossil beds and Paleozoic Strata, where ancient 'Trilobite' fossils are found, 505 – 570 million years old. An intriguing visit to a fossil museum is possible where you will witness some of the ancient specimens.
• Continue travel to the eminent sand dunes of Erg Chebbi and experience the glory of the Sahara Desert. Erg Chebbi is regarded as the gateway to the Grand African Sahara where some dunes are considered the highest in north Africa at 350 M elevation.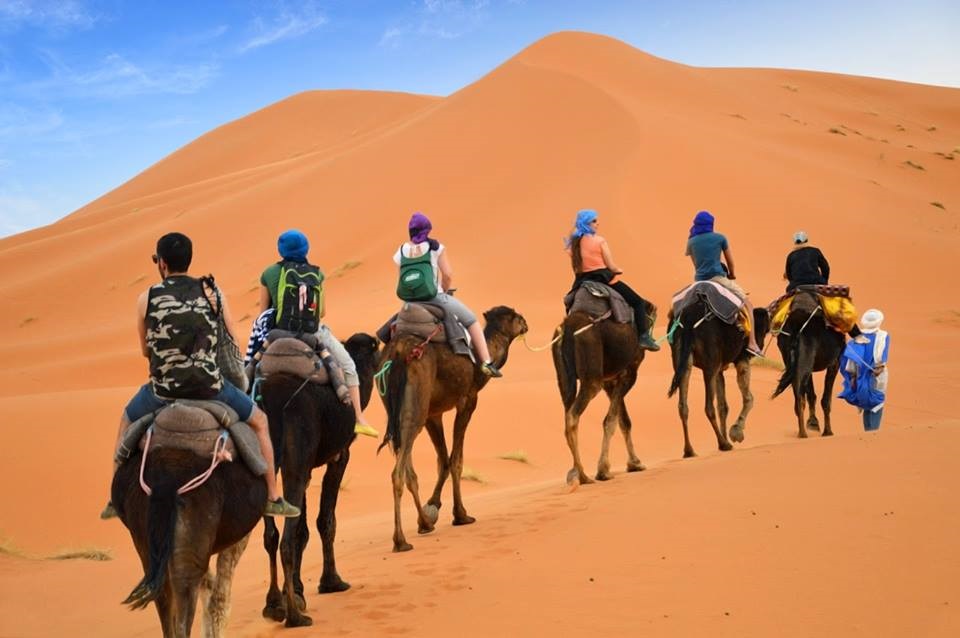 • Meet your Camel caravan and the experienced camel man, who will guide your trek to explore the mysterious Sahara sand sea, an alluring and unique trek which will make your Morocco itinerary 5 days desert tour from Marrakech a memorable experience.
• Enjoy a charming sunset over the Erg Chebbi dunes and spend the night in a Berber desert camp. The evening will include dinner, followed by entertainment around the campfire, listening to traditional Berber drum music, having the experience of a lifetime under the milky way stars. This will captivate your heart and soul, not for a night but forever. "Sand boarding is available in the camp". (Overnight in Sahara Desert).
Day 3: Full day of sightseeing in Sahara desert :
• On the 3rd day of your Morocco itinerary 5 days desert tour from Marrakech, before sunrise, on waking, you may climb the sand dunes for a fantastic view of the amazing sunrise in the Sahara Desert, followed by a typical traditional Berber breakfast.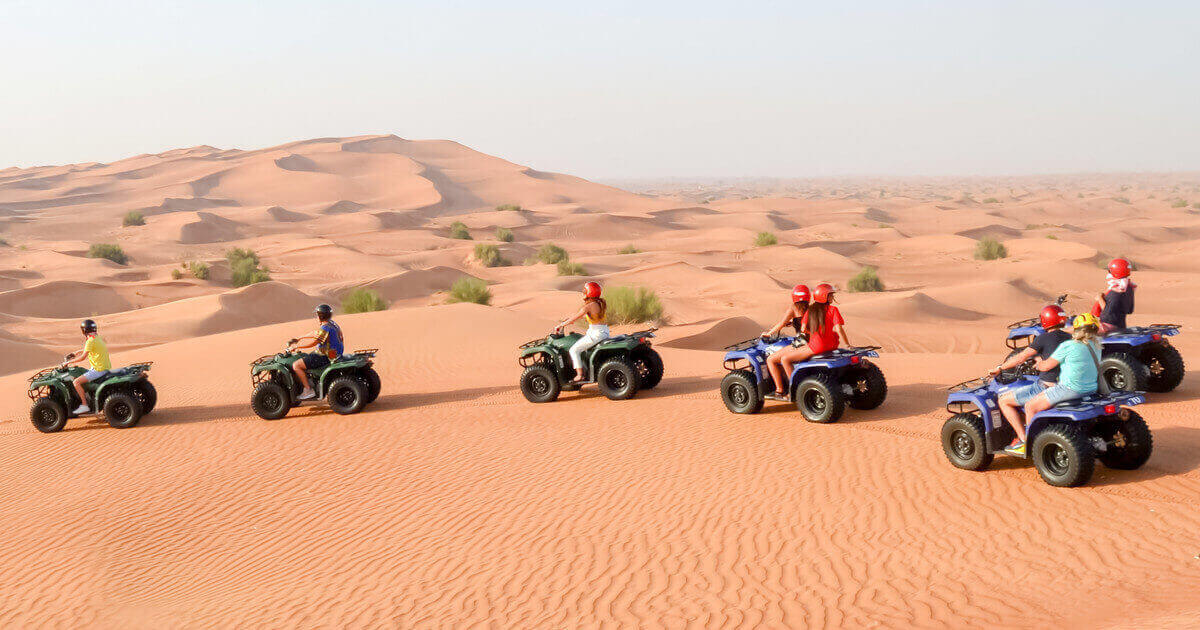 • Begin your day with a 1 hour Quad excursion through the Sahara Desert. Enjoy the exhilaration of speeding through the sands and up the dunes, where you will stop to enjoy a peaceful moment with just sky and sand for as far as you can see. You will have a professional guide to ensure your safety!
• Explore the Berber farms and fields of Merzouga and marvel at the ingenious underground water and irrigation system, for family agriculture and for spectacular date palms.
• Visit Dayet Srij Salt Lake or "Flamingos Lake". During Spring the lake attracts many species of birds e.g. amazing colony of Greater Flamingos, desert Warbler, Egyptian Nightjar, Falcons, desert Sparrows and many more. Several species reside at the lake all year round. Other wildlife to be spotted at the lake are lizards, hedgehogs and desert foxes.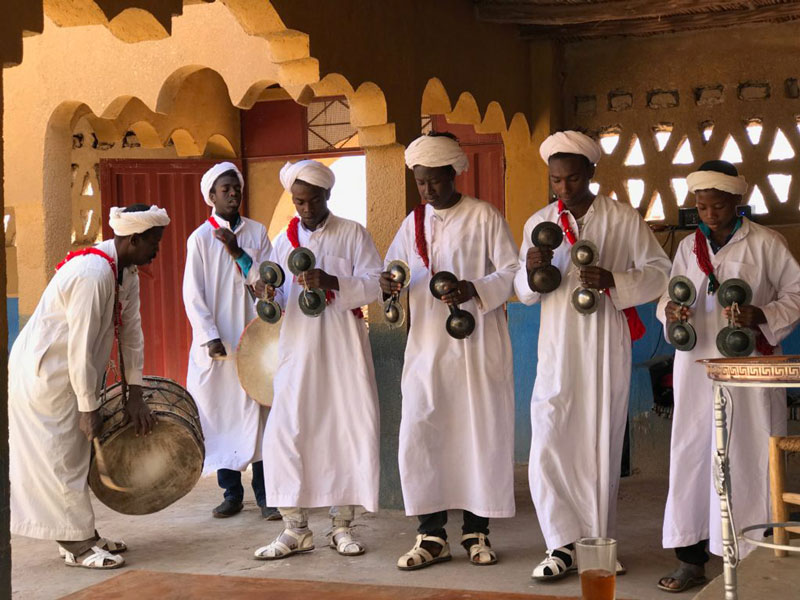 • Visit the Black village of Khamlia. For centuries black Africans from the Gnawa tribe, originating from sub-Saharan countries such as The Sudan, Mali and Niger, were forcibly moved from their homelands across the Sahara to Morocco as part of the worldwide slave trade. Shackled in chains as they crossed the desert, they sang to soothe their pain and found a mindfulness in the rhythmic chanting and clanking of the chains.
• Today Khamlia's inhabitants are direct descendants of these slaves. You will visit one of the music associations, have a cup of tea and listen to the Gnawa inspirational African music which is legendary from their ancestors, preserved from their original homeland and still played in a traditional manner.
• Visit a desert nomadic family, share a cup of tea with them and be totally captivated by their lifestyle of traditional tents and the harsh desert environment in which they live.
• Partake of a delectable lunch of Berber Pizza which is a specialty of the desert town of Merzouga.
• Head to your Riad/Hotel in front of the sand sea for a rest or a swim at your leisure. (Overnight in Merzouga).
Day 4: Sahara desert » Rissani » Draa valley » Agdz » Anti Atlas » Ouarzazate :
• On the 4th day of your Morocco itinerary 5 days, after having experienced a memorable 2 nights in the spectacular sand sea dunes of Sahara, you depart for the town of Rissani which was an ancient strategic cross roads destination on the trans Saharan trade route, linking Western Africa with Europe and Asia. It was a major camel caravan and commercial center which gave great importance to the city from the 8th to the 16th centuries.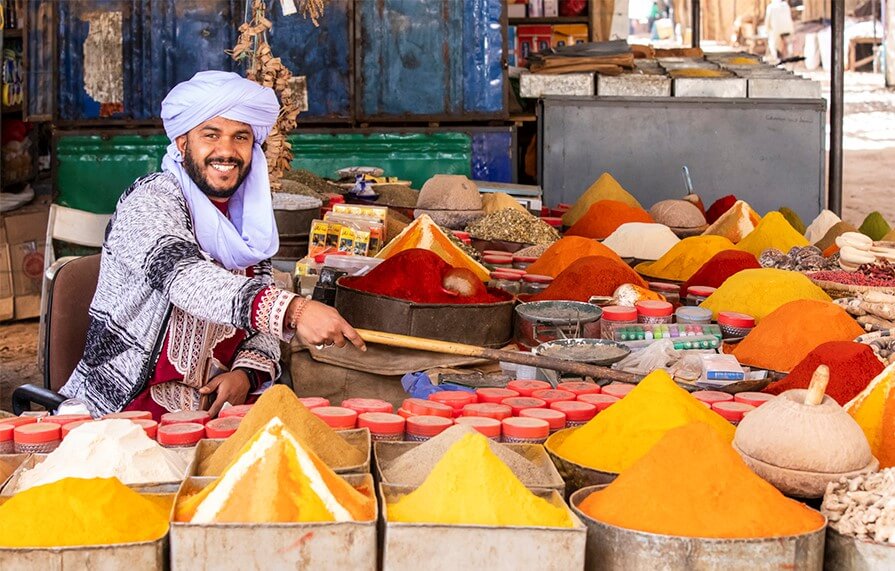 • Rissani is renowned for its cultural diversity of Berber, Arab and desert communities, all displaying different colours and clothing styles. Rissani is known for traditional markets and Souks where are displayed gifts, spices crafts and local fresh produce and live-stock. There maybe time to explore these traditional markets and sample Moroccan sweet dates.
• After lunch, you will journey via Nkob, Agdz and the mesmerizing Draa Valley which stretches from the High Atlas Mountains to the Sahara Desert and where groups of grazing camels maybe spotted in this area.
• The Draa Valley is a stunningly splendid Oasis, home to Berber villages along the Draa River. The valley comprises of sand dunes, river, fertile green plains, snow capped Atlas mountains (in view), and avenues of majestic palm trees. This area has thousands of years of geographical richness and history. You will be enthralled by the amazing beauty of the timeless landscapes and winding roads through Berber villages, full of wonder and mystique. This is the true picture of the "Grand South" of this uniquely resplendent Kingdom of Morocco.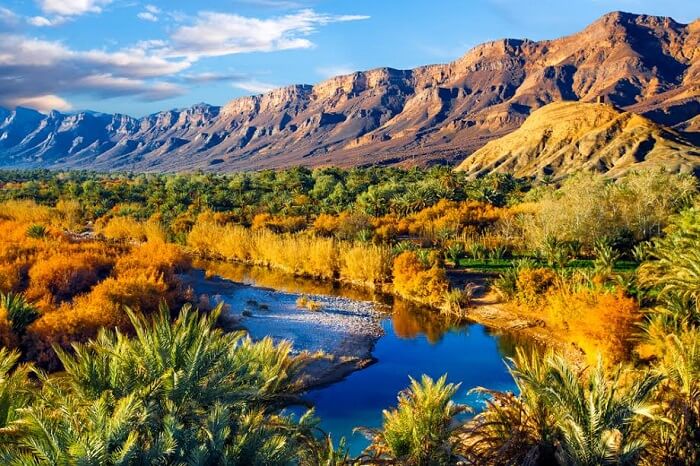 • An enchanting drive through the Draa Valley will excite you, to take in the beauty of the palm groves and the huge Draa Oasis, which stretches far and is surrounded by the wondrous Atlas Mountains. The valley's history and richness is evidenced by ancient cave paintings and carvings found in the area. Archaeological digs have unearthed a manuport of "Venus of Tan-Tan", said to be one of the oldest pre-historic sculptures ever found. The Draa Valley was once an important transit point on the trans-Saharan caravan trading routes, as well as an important trading center for Berber, Jewish, Arab and Christian civilizations.
• With such rich culture and history which you will discover during this Morocco itinerary 5 days desert tour from Marrakech, the Berbers of the Draa Valley have preserved the simplicity of the traditional way of life, lived by their ancestors centuries ago. They ride donkeys, wash their clothes in the river and depend on clay to build their houses. While there, you will feel transported to an ancient time and will surely find it hard to believe that the cosmopolitan city of Marrakech is only a few hours away.
• You then drive to Ouarzazate city, via the Anti Atlas range which is a land of stunning jagged peaks, such as quartzite Jebel El'Kest, with oasis villages in the valleys. The Anti Atlas is a desolate world of rocky outcrops and lunar type landscapes. Villages here, are limited to a few small houses, surrounded by palm trees. The mountain range summit, average height is 3,305 M. (Overnight in Ouarzazate).
Day 5: Ouarzazate » Telouet » High Atlas mountains » Marrakech :
• On the 5th day of your Morocco itinerary 5 days and after breakfast, you leave the delightful city of Ouarzazate and our journey continues towards Marrakech, detouring through the beautiful Ounila Valley, glimpsing many Kasbahs and Berber mud-villages in Anmiter and Angulez villages, as we approach the High Atlas Berber village of Telouet.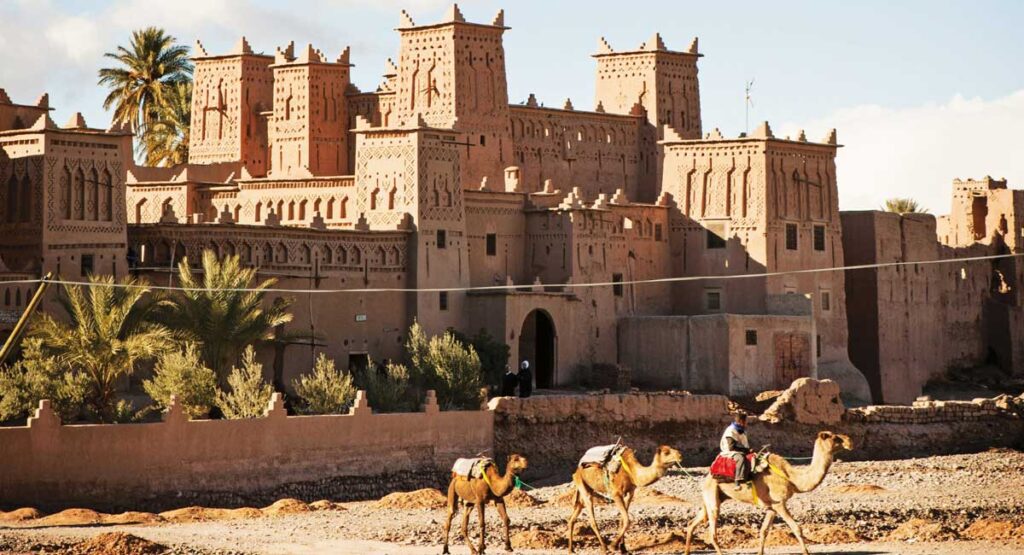 • Here we will visit Telouet Kasbah which was the birthplace of the High Atlas Mountain's most powerful family in the 19th century, the Glaoui family. Built of stone and crude cement, this Kasbah resembles urban Marrakech palaces with majestic tile work and carved Cedar wood work.
• Kasbah Telouet is in the Berber town of Telouet, along the ancient route of the caravans from the Sahara, over the Atlas Mountains to Marrakech. It was the seat of the powerful Thami El Glaoui family and was built in the 1860's. It stands at an elevation of 1,800 M occupying a strategic position in the High Atlas. The family's power faded as Morocco rose towards independence. El Glaoui became one of Morocco's leading figures during the French occupation but he died in oblivion in Marrakech in 1935.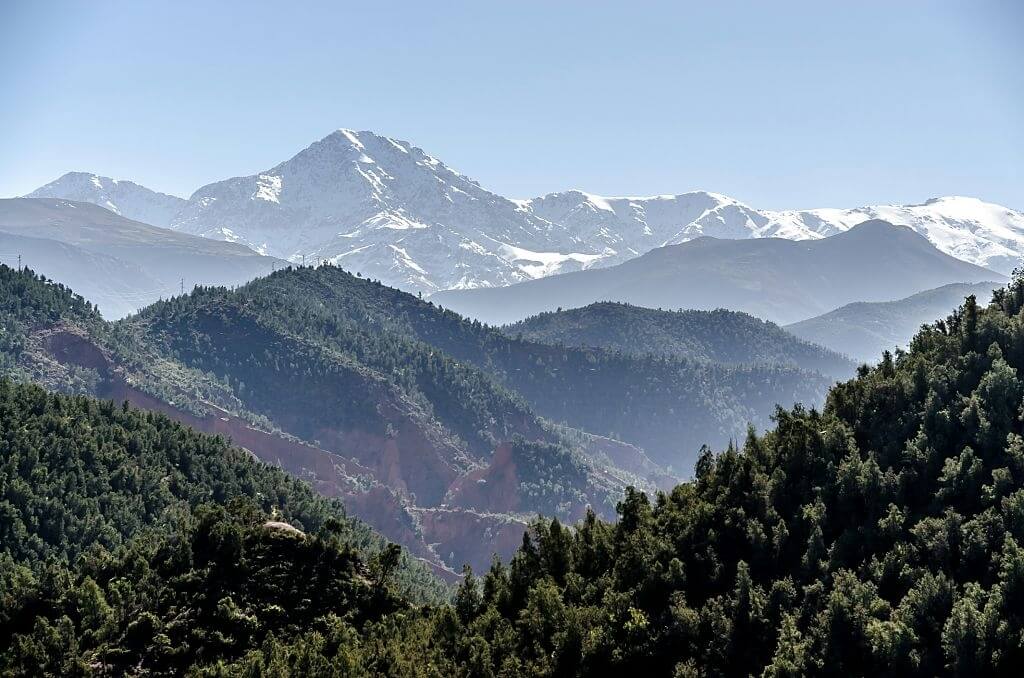 • The journey will continue through the dramatically beautiful landscapes of the High Atlas region, passing through old scenic Berber mud villages and over the Tizi n Tichka Pass, at altitude 2,260 M. Once through the pass and over the Mountains, the journey is to the final destination, the wonderful Marrakech which was originally called Amur n Akuch, a Berber name meaning  "Land of God".
• Marrakech is one of Morocco's Imperial Cities, because at some time in the country's history, Marrakech was the capital of Morocco, from 1071 A.D. for the following 2 centuries.
• Marrakech is a destination of all magic and a symbol of the kingdom of Morocco, where you will find a different and a unique atmosphere like snake charmers, storytellers, dancers, traditional musicians to mention just a few.
• The UNESCO ancient Medina is a walled Medieval style city, dating to the Berber Almoravid Empire. It was founded in 1062 A.D. by Yusuf bin Tashfin and was the capital of the Almoravid powerful Empire, which covered a vast area from Sahara, North/West Africa to Europe.
• Your Morocco itinerary 5 days desert tour from Marrakech ends and you will be transported to your accommodation or airport. Check our range of Marrakech desert tours for more desert tours departing from Marrakech.
NOTE : For alternative arrival and departure locations for a Morocco tour or a Sahara Desert tour with us, please view our range of Morocco private tours departing from the city of Casablanca, Fes and from Tangier.
What is included
in this Morocco itinerary 5 days
Travel in a private air-conditioned 4WD or Minivan, with a professional, licenced English speaking driver/guide.

Pick up / drop off from and to your Hotel / Riad in Marrakech.

WiFi hotspot in the car + 2 water bottles for each per day.

5 days / 4 nights accommodation with Breakfast & Dinner while on tour.

Camel ride and overnight stay in a Sahara desert camp.

Turbant (head wear) each for the camel trek in the Sahara desert.

ATV quad bikes in the Sahara desert and s

and boarding (Optional).

Visit a berber nomad family

during this Morocco itinerary 5 days tour from Marrakech

.

All taxes and fees for this Morocco itinerary 5 days tour.
What is not included
in this Morocco itinerary 5 days
Travel insurance.

Flight ticket.

Snacks, drinks and incidentals during this Morocco itinerary 5 days desert tour from Marrakech.

Hotel services, such as room service or laundry service.

Tips and gratuities during this Morocco itinerary 5 days desert tour.

Personal expenses.

Lunches.

Morocco itinerary 5 days from Marrakech