Morocco is an exotic paradise. Romantic, mysterious and utterly intoxicating. Celebrate your Morocco Honeymoon itinerary with us, an exotic land of landscapes, ancient Kasbahs, rolling Saharan sands, verdant valleys and bustling souks.
During this 13 days Morocco Honeymoon itinerary, you will visit the ancient Moroccan Imperial cities of Rabat, Fes, Meknes and Marrakech and the Roman ruins of Volubilis. You will discover the uniquely modern architecture of the Hassan II Mosque, whilst evidencing Morocco's remarkable antiquity and Morocco's blue pearl city of Chefchaouen.
There will be a monumental desert trek by camel into the iconic Sahara Desert where you will enjoy a classic and a starry sky overnight in a Berber desert camp and may avail yourself of sand boarding and quad bike riding the golden orange Sahara dunes.
On this Morocco honeymoon itinerary, you will discover the most filmed location in Africa and the UNESCO site of Ksar ait Benhaddou. Visit a nomad family in Sahara, share a cup of tea with them and discover their lifestyle. You will be captivated by the remarkable Atlas Mountains, wondrous landscapes, deep gorges, soaring cliffs, valleys, luscious oases and unique rock formations. You will visit the amazing UNESCO protected site of the Oasis of Skoura which houses the iconic 17th century Kasbah of Amridil. A visit to view the production of the world famous Argan Oil of Morocco will enthrall you. There will be adventures through ancient cities and their alleyways, markets, souks and Medinas which will fuel your curiosity throughout Morocco, pulsating with colour and ancient culture.
DAY 1: Arrive in Casablanca :
Meet your Grand Morocco Guide / driver at Mohammed V international airport and get to know the cultural, historic and the economic center of Morocco. Casablanca is a captivating city in which to begin the Morocco honeymoon itinerary and this tour will guide you to see the most important sights of this city. Today, it is a modern city with boulevards, modern infrastructure and rich history. You will receive insight into the city's history and heritage from your driver guide.
• Stroll along the Habous Quarter which is one of the most picturesque places in Casablanca with its small squares and narrow arcade streets, a fine example of successful adaptation of modern town planning in style of a Moroccan traditional Medina. Depending on your arrival time, you will visit the Mohammed V Square, Mahkama du Pacha, the famous Rick's Café, the elegant Notre Dame de Lourdes Cathedral in the residential area of Anfa. You will also visit the famous and 5th largest mosque in the world Hassan II Mosque and the largest Mall complex in Africa (Morocco Mall). Take a leisurely wander along the seaside of la Corniche in Ain Diab. (Overnight in Casablanca).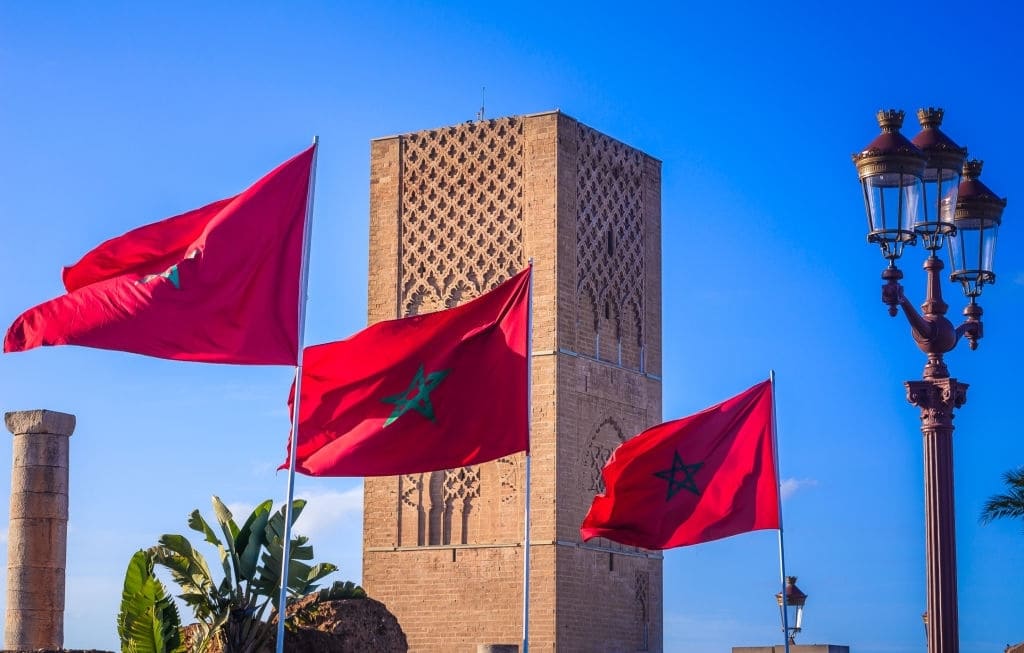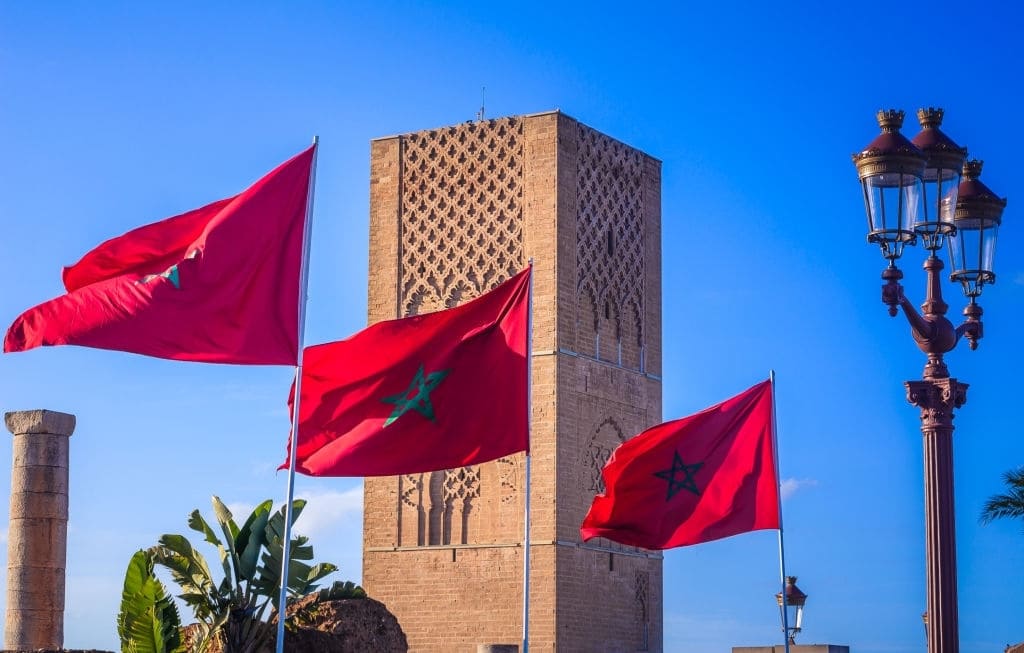 DAY 2: Casablanca – Rabat – Chefchaouen :
• On the 2nd day of your Morocco honeymoon itinerary, you will travel to the city of Rabat, the capital of Morocco and its political/administrative centre. Rabat, is a city full of centuries of rich history to visit while on a Morocco Honeymoon itinerary.
• Admire the masterful architecture of Mohammed V Mausoleum, visit the UNESCO listed site of Hassan Tower and the official residence of the King of Morocco.
• Visit the Ahl Fes Mosque and the UNESCO listed site of Oudaya Kasbah where you will discover Rabat's oldest Mosque and the beautiful Andalusian Gardens.
• After lunch you will head through the stunning Rif Mountains towards Chefchaouen, and marvel at the uniqueness of the world famous "Blue Pearl" city of Morocco. Chefchaouen is a city with special vibes. Its unique charm gives a surreal impression. Observe the city's old Moorish way of life and take a dream wander for a wonderful photo opportunity, while on your Morocco honeymoon itinerary. (Overnight in Chefchaouen).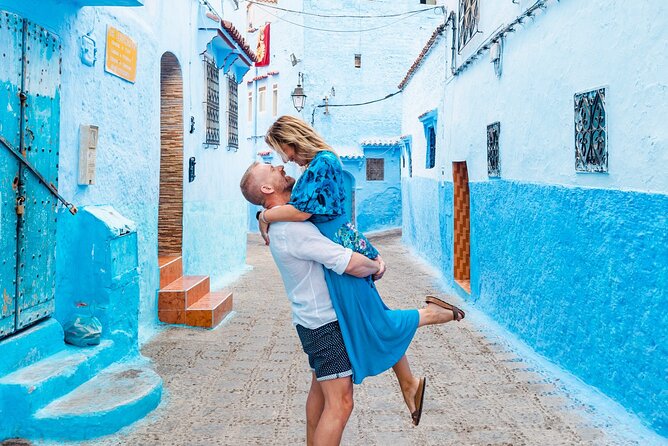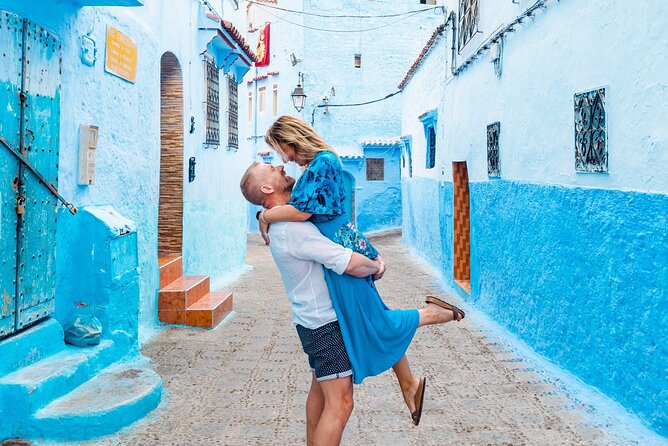 DAY 3: Sightseeing day guided tour of Chefchaouen :
Today, you will explore the charming blue washed town of Chefchaouen with a private local guide where you will be enchanted to learn of the rich heritage and visit architectural treasures such as Ras el-Maa, the Kasbah Museum, the Spanish Mosque, Plaza Uta-Hammam and more.
Known as the blue pearl and ranked sixth of the most beautiful cities of the world. Chefchaouen is an artsy, blue washed mountain village which was founded in the 15th century and was populated by Jewish and Muslim refugees fleeing from the Spanish Inquisition in 1478.
Chefchaouen was isolated until early 20th century but has preserved a Moorish way of life and is regarded as the prettiest town in Morocco. Chefchaouen presents glorious photo opportunities and walking here will make you feel as though moving through a dreamland.
The town buildings are painted blue and white, so the entire village appears to be wonderfully drenched in many hues of glorious blue leaving the traveler with a surreal impression. (Overnight in Chefchaouen).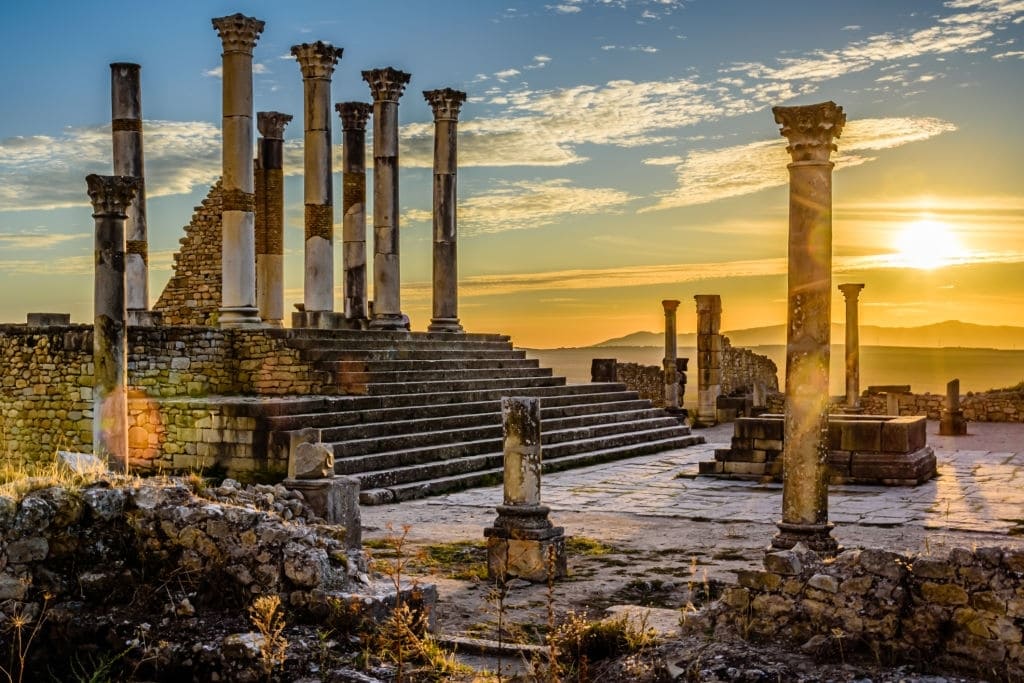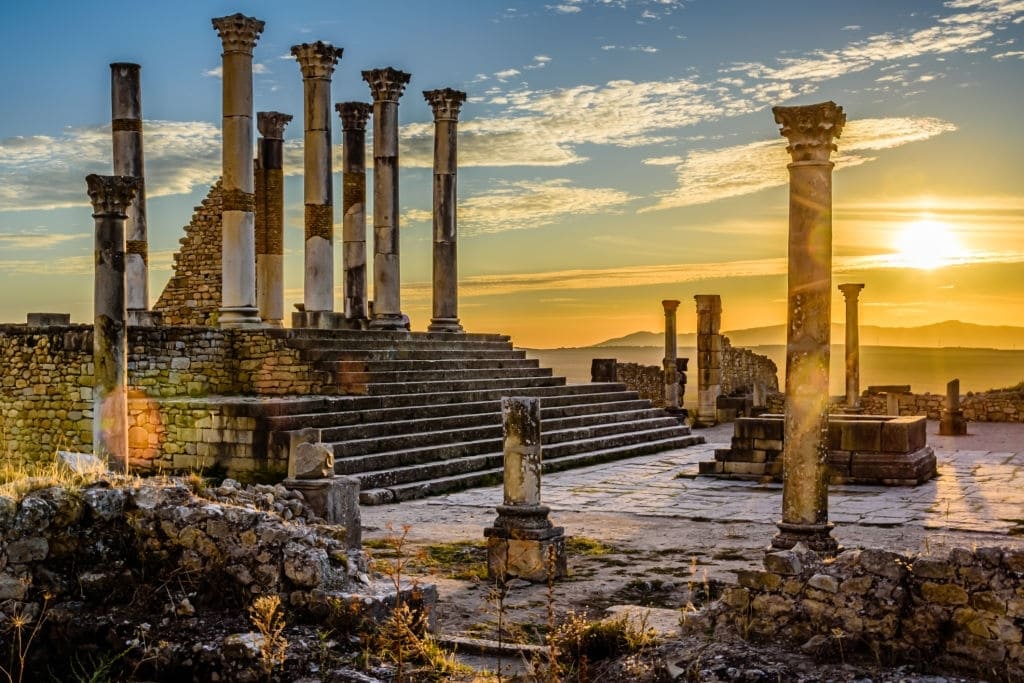 DAY 4: Chefchaouen – Meknes – Volubilis – Fes :
After leaving Chefchaouen, head south via the stunning Rif Mountains towards the Roman ruins of

 

Volubilis, where you will undertake a walking visit of the ruins.
Morocco has one of the richest histories and cultures globally, influenced by centuries of diverse rulers which includes Roman rule. Explore the ancient Roman city of Volubilis. Dating back to 3rd century BC, Volubilis is home to some of the most impressive Roman ruins in North Africa.
During Roman occupation of Morocco, Volubilis was the powerful ancient capital and administrative centre of Roman Africa and prospered economically. Among the most famous of the ruins are the luxury villas with their water tanks, large courtyard beautiful mosaic floors, various pavilions, Basilica, Triumphal Arch built in 217 A.D and more than 300 temples. It was UNESCO World Heritage listed in 1997.
Depart to the Imperial city of

 

Meknes. Visit the 18th century

 

Bab

 

Mansour gate which is the most exquisite of its kind in North Africa and one of the 4 most beautiful gates in the world,

 

Lahdim

 

square, the

 

Royal

 

stables, the incredible

 

Bassin

 

Souani, visit Moulay Ismail's shrine to receive an insight into his interesting life and everlasting achievements.

Continue your journey to the ancient, vibrant and cultural Imperial city of Fes. 

(Overnight in Fes).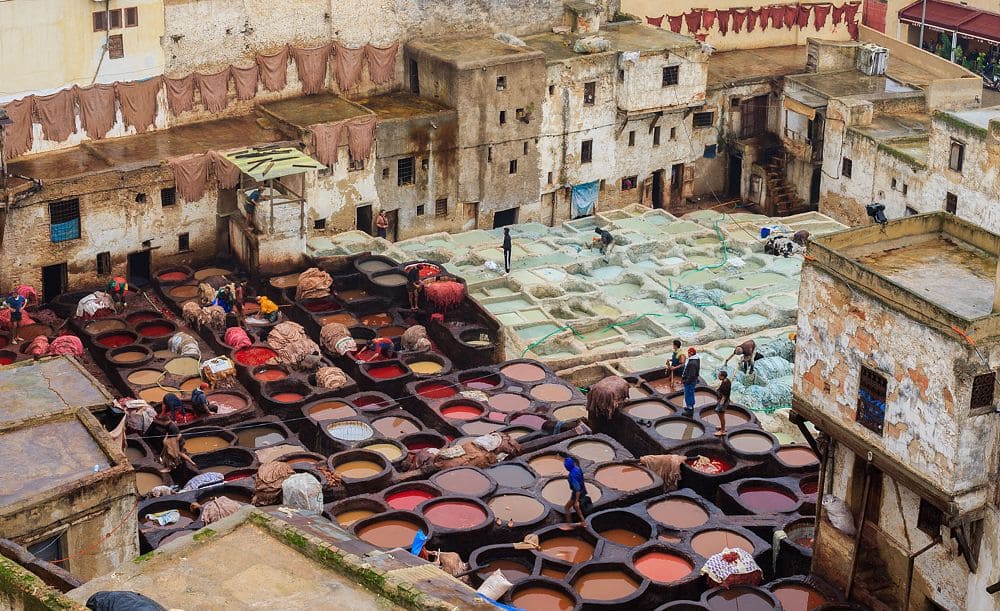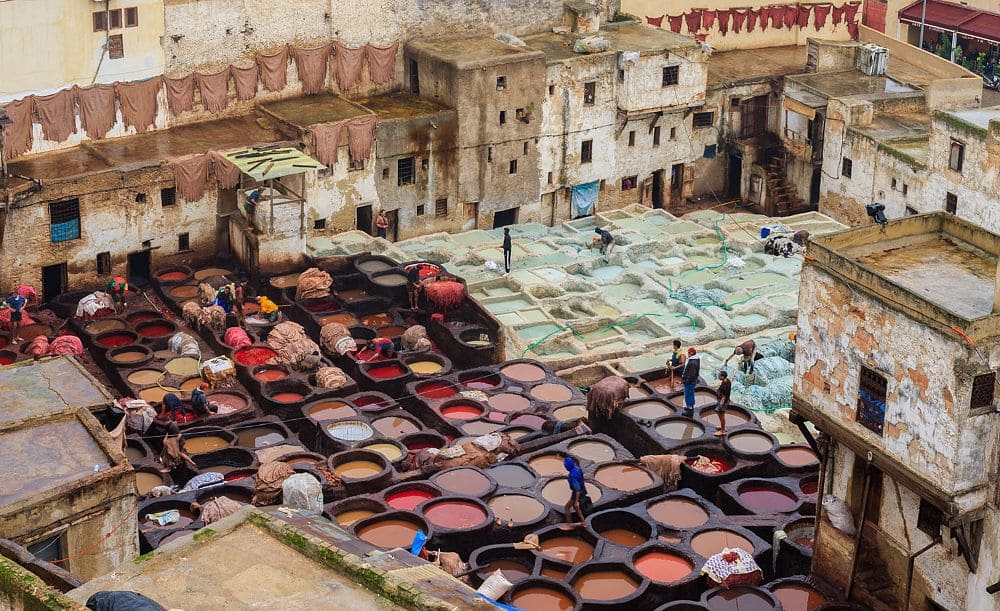 DAY 5: Fes Guided city tour :
Begin with a visit to the 12

th

century Bab Boujloud or "blue gate", to observe its stunning blue and green ceramics.
Visit the largest royal palace in Morocco, Dar el Makhzen, exhibiting its seven golden doors and marvel at its wonderful golden gate, made of marble, copper and glorious mosaics.
Stroll through the Mellah or Jewish quarter of old Moroccan Jewish heritage, built near the Royal residence for protection in 1438.
Experience the panoramic view of the city from Borj Sud, an ancient fortress on a hill, from where you can view the UNESCO listed ancient Medina of Fes.

Visit the amazing pottery factory and observe how the unique pottery of Fes is made with its intricate mosaics, which adorn half of Morocco.

Visit the 14

th

century Madrasa Bou Inania religious school and be delighted by the Marinid architecture.
Discover the holy school and historic University of Al-Qarawiyyin, the world's oldest continuously operating, degree-granting university in the world, as stated by UNESCO and the Guinness World Records. Founded by a woman, Fatima al-Fihir in 859 AD.

Visit the famous 11

th

century iconic Chouara tannery, the oldest leather tannery in the world.

Explore the narrow streets lined with shops selling fresh fruits, spices, intricately woven Berber carpets, silk weavers and numerous other art and craft items from Morocco, a must-do while on your Morocco honeymoon itinerary.

Lunch in an authentic restaurant in the Medina of Fes.

Visit Madrasa Al-Attarine, Nejjarine Museum, Moulay Idriss Mausoleum (founder of Fes).

While negotiating the narrow alley-ways, your local guide will instruct you about Moroccan history, culture and the Moroccan Berber way of life, especially around Fes. 

(Overnight in Riad in Fes).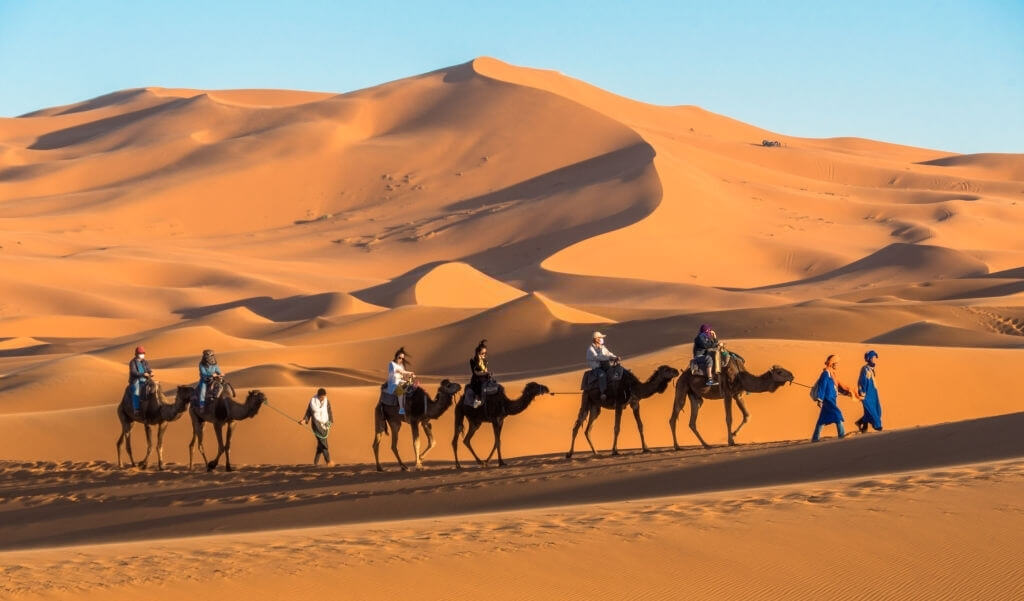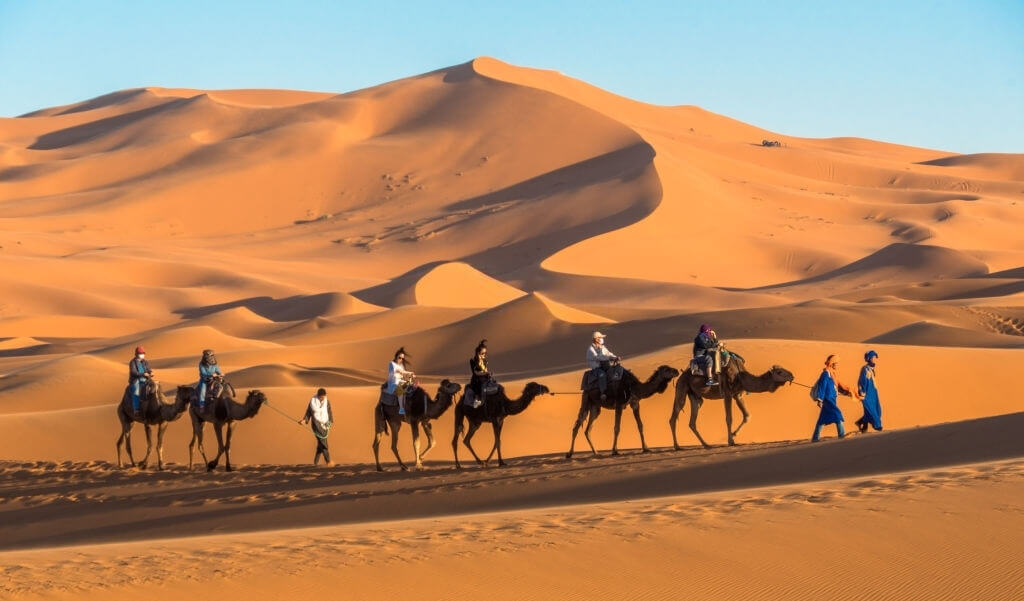 DAY 6: Fes – Ifrane – Middle Atlas – Ziz valley – Sahara :
Travel to Ifrane known as the Little Switzerland of Morocco and stop for a break to enjoy its marvelous landscapes.
Here in Ifrane, you will become aware that this magical mountain town is one of the most beautiful cities in Morocco and features in the top 10 cleanest cities of the world. A beautiful place you will admire while on your Morocco honeymoon itinerary.
Navigate the green and superb Middle Atlas Mountains, marvel at the largest Cedar plantations in Africa and be captivated by the antics of the Barbary Apes. This species of Apes is found only in Morocco, Gibraltar and Algeria.
Stop in Zayda town for lunch and enjoy a Moroccan tajine or some fresh barbeque.
Drive through the scenic Middle Atlas Mountains and the striking Ziz Valley oasis, containing the largest palm grove oasis in Morocco.

Observe a dense canopy of palms between ancient striated cliffs dating back to the Jurassic period.

Continue travel to the eminent dunes of Erg Chebbi and experience the glory of the Sahara Desert. Erg Chebbi is regarded as the gateway to the Grand African Sahara and has some dunes 

considered the highest sand dunes in north Africa at 350 M elevation.

Meet your camel caravan and the experienced camel man, who will guide your trek to explore the mysterious Sahara sand sea, an unforgetable and alluring trek for your Morocco honeymoon itinerary.

Enjoy a charming sunset over the Erg Chebbi dunes and spend the night in a Berber desert camp. The evening will include dinner, followed by entertainment around the campfire, listening to traditional Berber drum music, having the experience of a lifetime under the milky way stars. This will captivate your heart and soul, not only for a night but forever. (Sand boarding is available in the camp). (Overnight in Sahara Desert).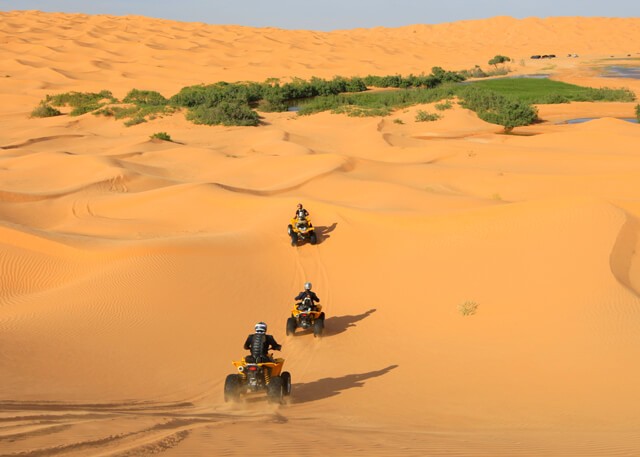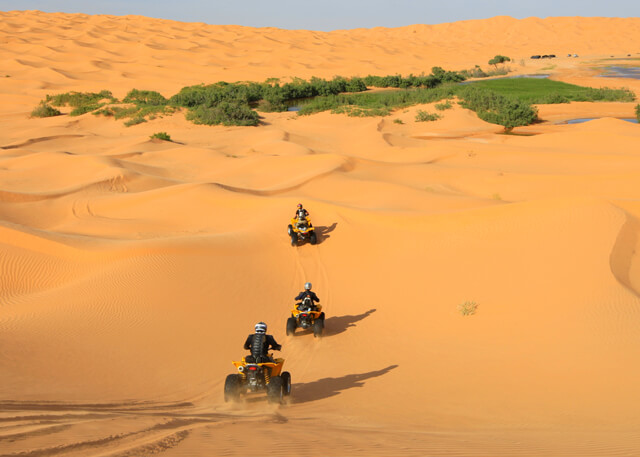 DAY 7: Sahara sightseeing tour & Quad bike excursion :
During this day of your 13 days Morocco honeymoon itinerary, before sunrise in the desert, you may climb the dunes to observe a fantastic sunrise, followed by a typical Berber breakfast.

Begin your 1 hour Quad bike excursion through the Sahara Desert. Enjoy the exhilaration of speed through the sand dunes, where you will stop to enjoy a peaceful moment with sky and sand as far as you can see. You will have a professional guide to ensure your safety.

Explore a berber oasis in the desert town of Merzouga and marvel at the ingenious underground water and irrigation system, for family agriculture and the spectacular date palms.

Visit Tifert n Igdad salt lake or Flamingos Lake. During Spring the lake attracts many species of birds. Other wildlife to be spotted at the lake are lizards, hedgehogs and desert foxes.
Visit the Black village of Khamlia

.

For centuries black Africans from the

 

Gnawa tribe, originating from sub-Saharan countries such as The Sudan, Mali and Niger, were forcibly moved from their homelands across the Sahara to Morocco as part of the worldwide slave trade. Shackled in chains as they crossed the desert, they sang to soothe their pain and found a mindfulness in the rhythmic chanting and clanking of the chains.
Today Khamlia's inhabitants are direct descendants of these slaves. We will visit one of the music associations, have a cup of tea and listen to the Gnawa inspirational African music which is legendary from their ancestors, preserved from their original homeland and still played in a traditional manner.
Visit a desert nomadic family, share a cup of tea with them and be totally captivated by their lifestyle of traditional tents and the harsh desert environment in which they live.
Partake of a delectable lunch of Berber Pizza which is a specialty of the desert town of Merzouga and head to your Riad/Hotel in front of the sand sea for a rest or a swim at your leisure

. 

(Overnight in Merzouga).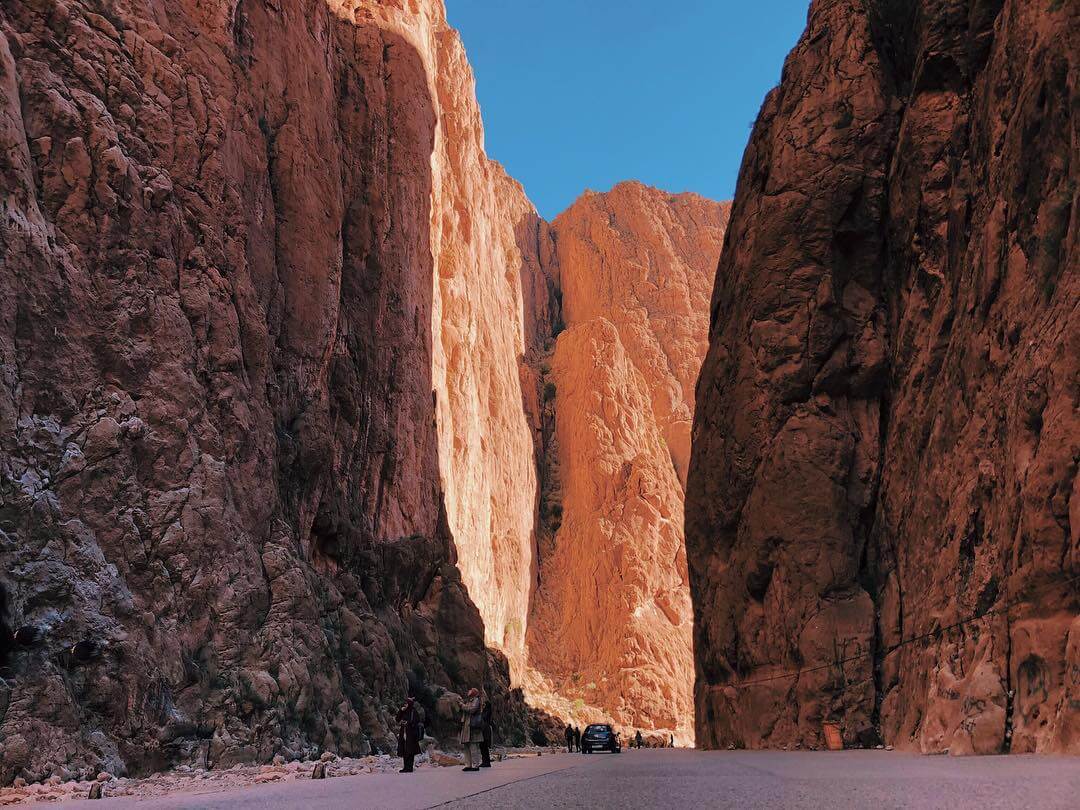 DAY 8: Sahara desert – Rissani – Todgha gorge – Dades valley :
On the 8th day of your Morocco honeymoon itinerary and after having experienced 2 memorable nights in the spectacular sand sea desert dunes of Sahara, we depart for the town of Rissani.
Between the 14th and 18th centuries it was the location of the famed desert capital, Sijilmassa, where fortunes in gold and slaves were traded via caravans crossing the Sahara desert.
Step back in time and feel the ageless presence of the 200,000 strong annual camel trains crossing here on the trans-Saharan trade routes from sub Saharan African countries.
Visit Rissani traditional markets / Souks. Tuesdays, Thursdays and Sundays, being the busiest shopping days for souvenirs, gifts, spices, crafts and jewellery such as silver. There is a live stock market for sheep, goats and donkeys, local fresh produce such as dates, olives, vegetables and many traditional items. You will explore these traditional markets and maybe taste some Moroccan sweet dates.
Marvel at the globally renowned fossil town of Erfoud, where a stop at the fossil museum will uncover a  'wealth' of ancient specimens.
Wander at leisure through the Todgha Gorge and witness the immensity of the red cliffs where international rock climbing feats are undertaken. The Todgha Gorge is globally recognized as a most spectacular canyon and has been used for several international movies such as the "Mummy".
Discover panoramic views of old Jewish and Berber mud villages and experience the presence of Berber nomads in the gorge herding their goats to drink at the river.
Journey on to the magic of the Dades Valley and observe along the valley, amazing rock formations known as the Monkey fingers. (Overnight in Dades valley).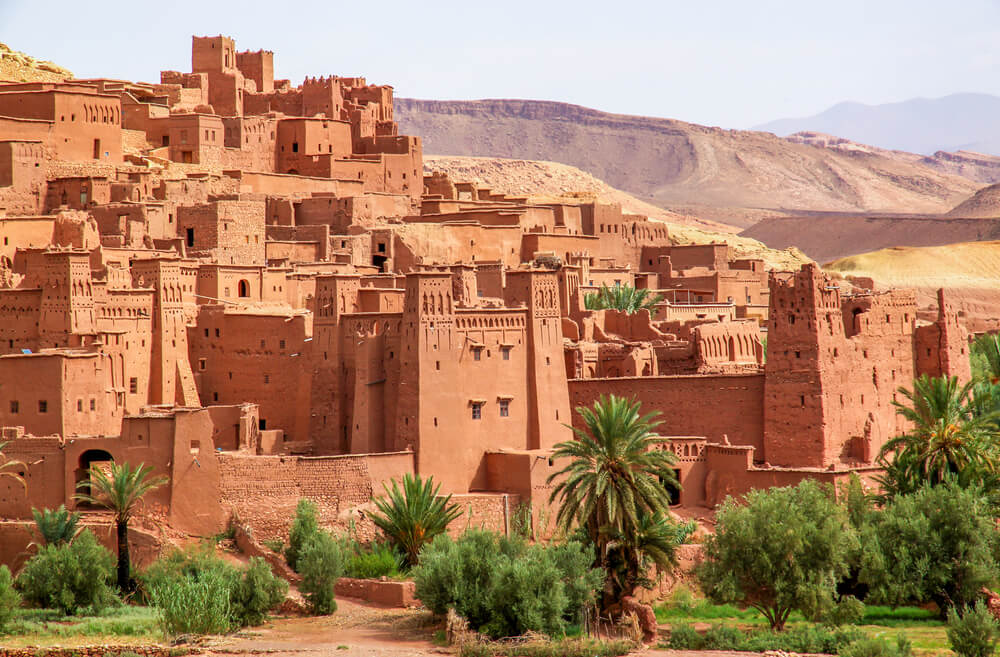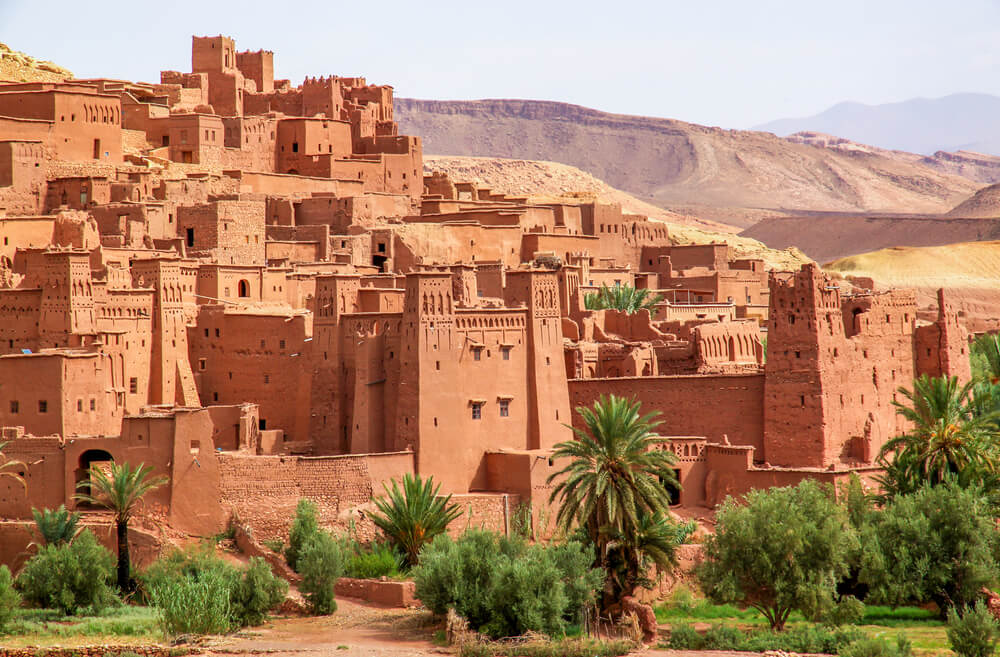 DAY 9: Dades valley-Rose valley-Ksar Ait Benhaddou-Marrakech :
Travel through the Rose valley, known for the famous Damaskina roses also for the annual festival during the rose harvest in May where Miss Rose of Morocco is chosen.
Continue through the Road of the thousand Kasbahs, 

the iconic Berber mud brick villages 

and earth castles to the Oasis of Skoura.
This oasis is UNESCO protected and is famous for its numerous Majestic Kasbahs and here we will stop to visit the iconic 17th century Kasbah of Amridil

, an ancient fortification providing visitors a glimpse into life in rural southern Morocco.

Visit the city of Ouarzazate known as the Hollywood of Africa and the spectacular UNESCO listed Ksar Ait Benhaddou, the most intriguing of the red earth castles and one of the most eye-catching filming locations featured in Game of Thrones, Gladiator and more. An enchanting historical monument you will admire while on your Morocco honeymoon itinerary.
Travel over the wilderness and natural beauty of the High Atlas Mountains, through the exceptionally scenic Tizi n Tichka Pass and witness the production of the world famous Argan Oil on the way to the magic city of Marrakech. (Overnight in Marrakech).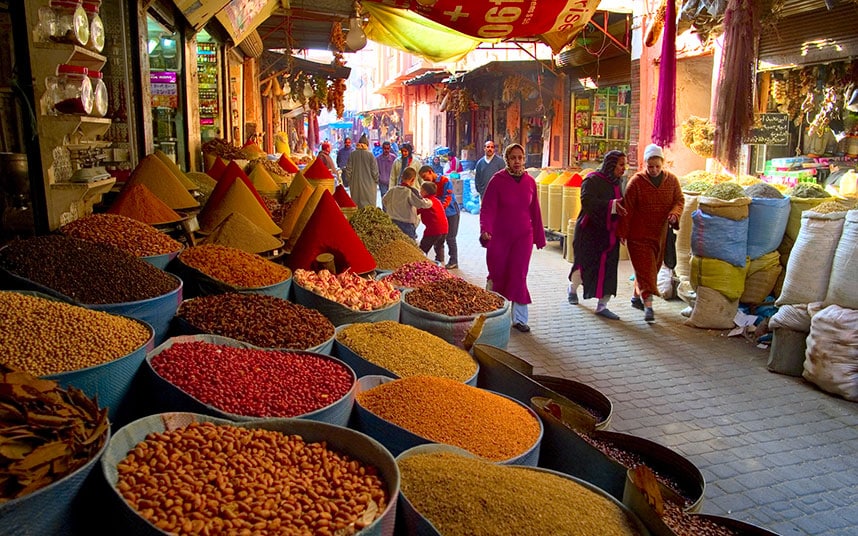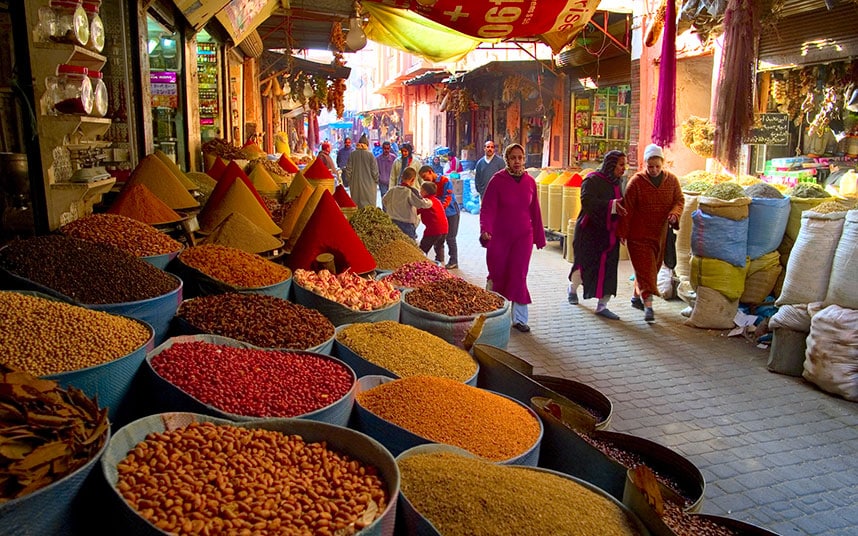 DAY 10: Marrakech guided city tour :
Embark on a full day tour of exotic and vibrant Marrakech, exploring in depth the rich cultural heritage and antiquity of the enchanting city.
Grand Morocco expert local guide will lead and instruct you through the UNESCO listed ancient walled medina.

A visit to the 19

th

century Bahia Palace, which illustrates Moroccan and Andalusian architecture and is a major heritage monument.

Stop at an interesting Berber Apothecary shop, full of herbs/spices etc. to treat anything during the Morocco honeymoon itinerary.

Visit an exquisite example of Moroccan and Andalusian architecture in the 14

th

century school, Ben Youssef Madrassa. It is the largest Islamic school in North Africa.

Visit the epic 12

th

century largest Mosque in Marrakech, Koutoubia Mosque with its 77 M high minaret and admire the Saadian tombs, the only remains of the Saadien dynasty in Marrakech, 1524-1659.
Explore the world famous UNESCO site of Djemaa el Fna plaza in the heart of Marrakech, a destination of all magic and a symbol of the ocher city where you will find a different and a unique atmosphere like snake charmers, storytellers, dancers, traditional musicians to mention just a few… (Overnight in Marrakech).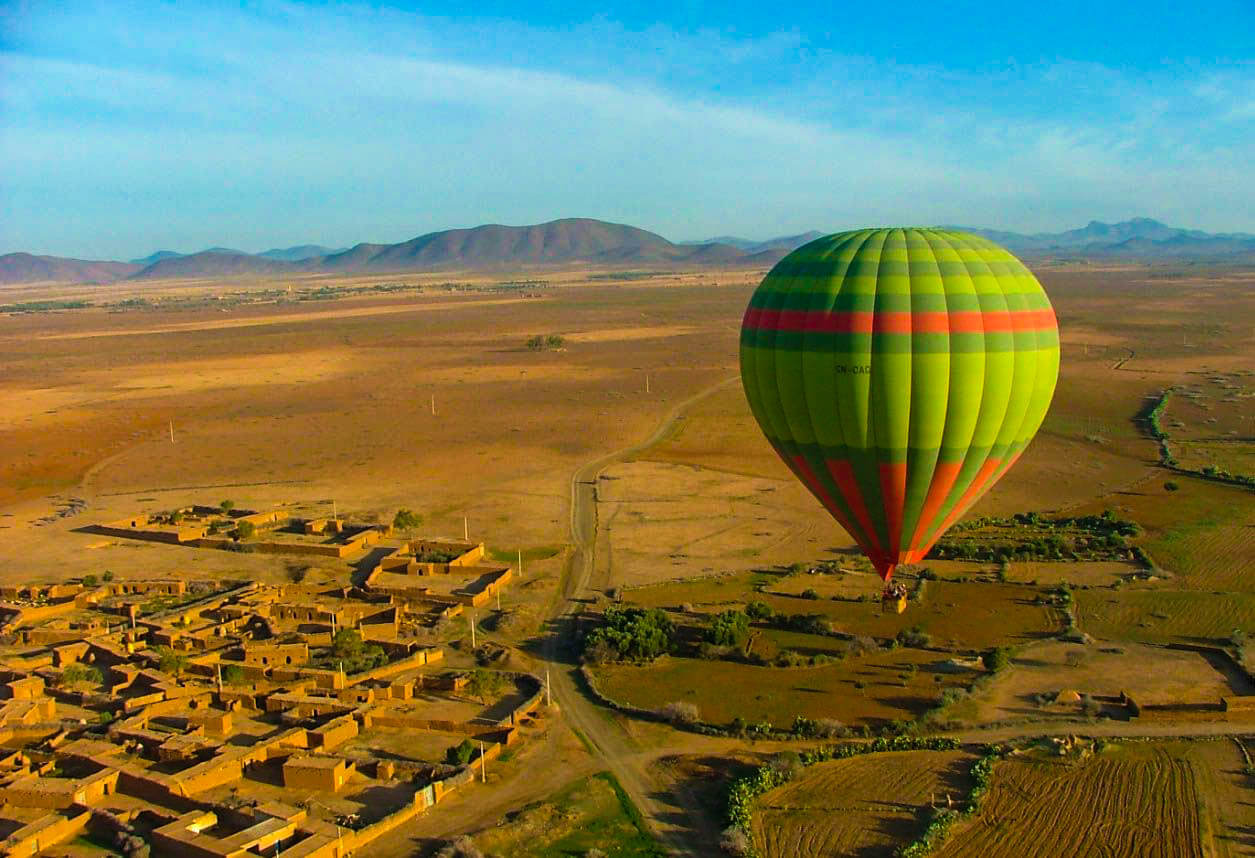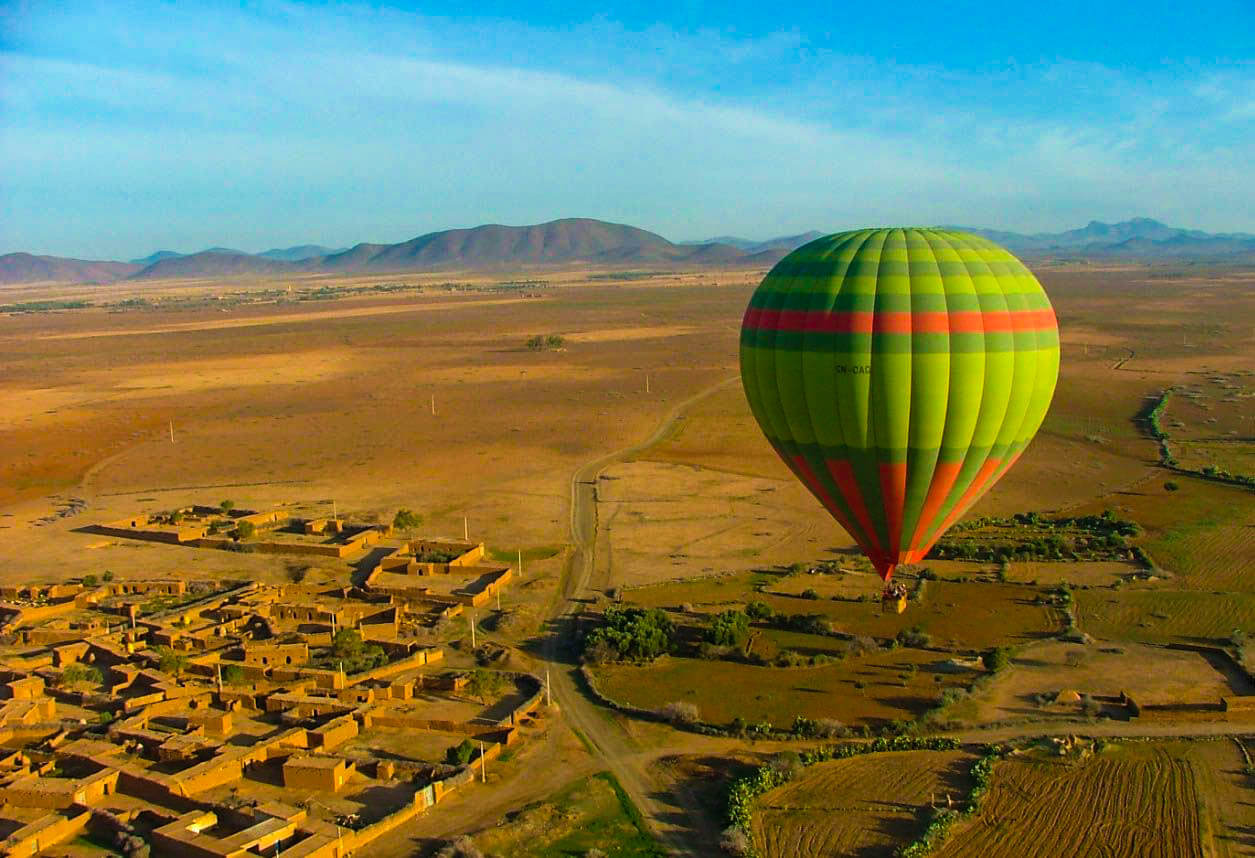 DAY 11: Hot Air balloon flight & Ourika valley excursion :
On the 11th day of your Morocco honeymoon itinerary, you will enjoy an early morning breathtaking adventurous Hot Air Balloon flight, revealing stunning aerial views of Marrakech environs and the spectacular High Atlas Mountains.
Then post-flight, partake of a traditional Berber breakfast and a short camel ride through the famous palm groves of Marrakech.
Journey into the Ourika Valley in the High Atlas Mountains and enjoy lunch while taking-in the panoramic landscape of lush terrain fed by the Ourika River.
Witness the scenic roads of the Ourika Valley and see the old typical Berber villages and houses clinging to the side of hills.
Be amazed by the natural sights at Setti Fatma waterfalls. (Overnight in Marrakech).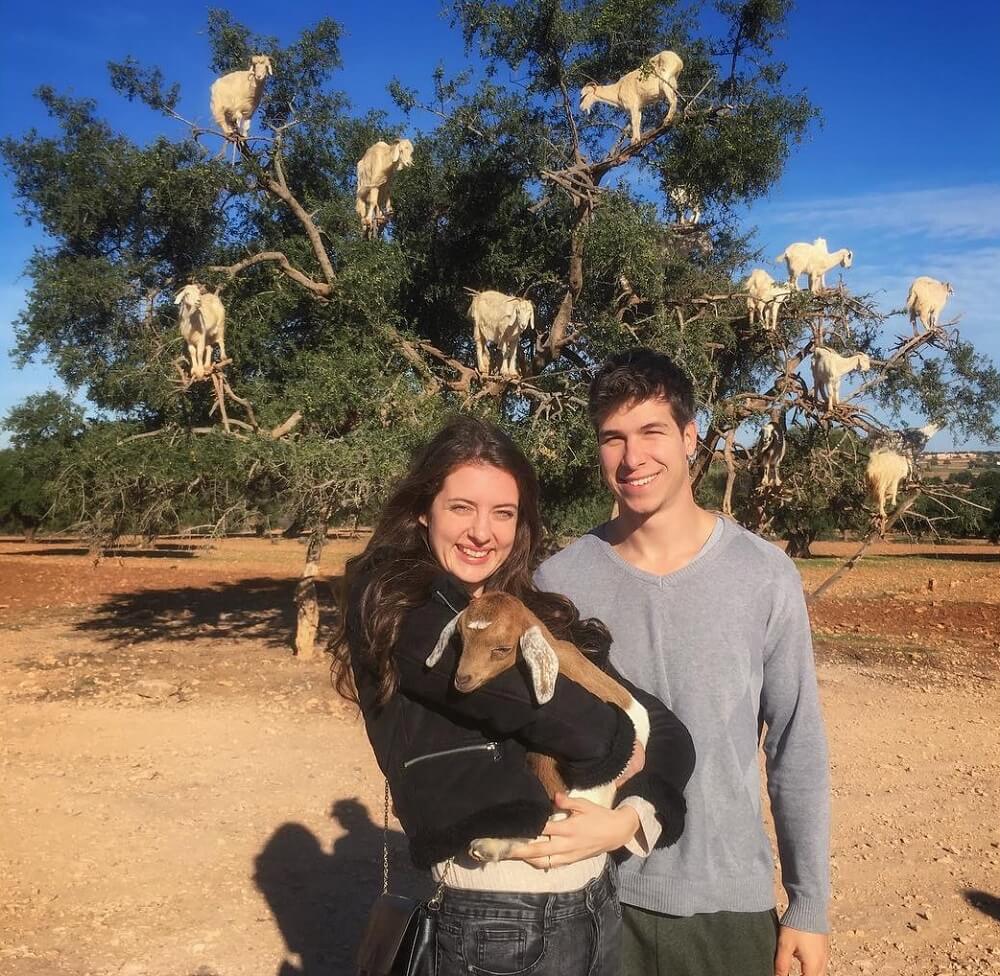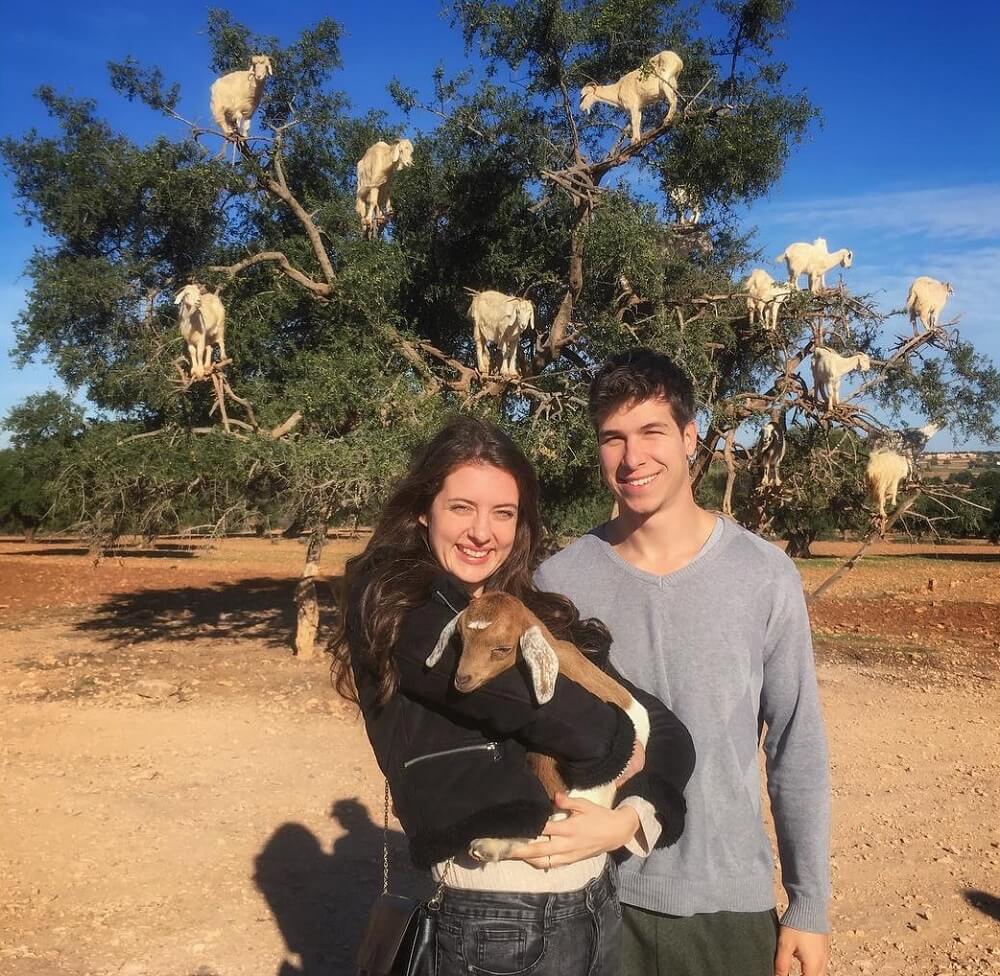 DAY 12: Essaouira day excursion, Atlantic coast :
On the 12th day of your Morocco honeymoon itinerary, you will travel to the UNESCO enchanting city of Essaouira on the Atlantic coast through splendid landscapes and fascinating Moroccan villages to discover the wonders of this former Portuguese medieval city.
Drive through the largest Argan forest in Morocco and 

stop to take pictures of Argan tree climbing goats.

Essaouira is an exceptional example of a late 18th century fortified town, built according to the principles of contemporary European military architecture in a North African context. Since its foundation, it has been a major international trading seaport, linking Morocco and its Saharan hinterland with Europe and the rest of the world.
Retrace the trails taken by Jimmy Hendrix, Bob Marley and Cat Stevens… and witness the old Portuguese ramparts and the UNESCO listed Medina.
Explore Essaouira's most important monuments, such as the old fish market and seaport. Watch silver craftsmen and wood carvers at work in the old medina where the labyrinth of streets is lined with heavy wooden doors and whitewashed houses. See the 18th-century ramparts of Essaouria from where you'll be able to see astonishing views of the Atlantic Ocean.
Wander through souks, traditional workshops and art galleries of the ancient Medina.
Visit Orson Welles Square and have lunch in one of the local restaurants serving delicious fish and seafood.
Enjoy a beach walk with sweeping vistas &/or activities (Horse ride, Atv Quads or camel riding) along the beach. (Overnight in Marrakech).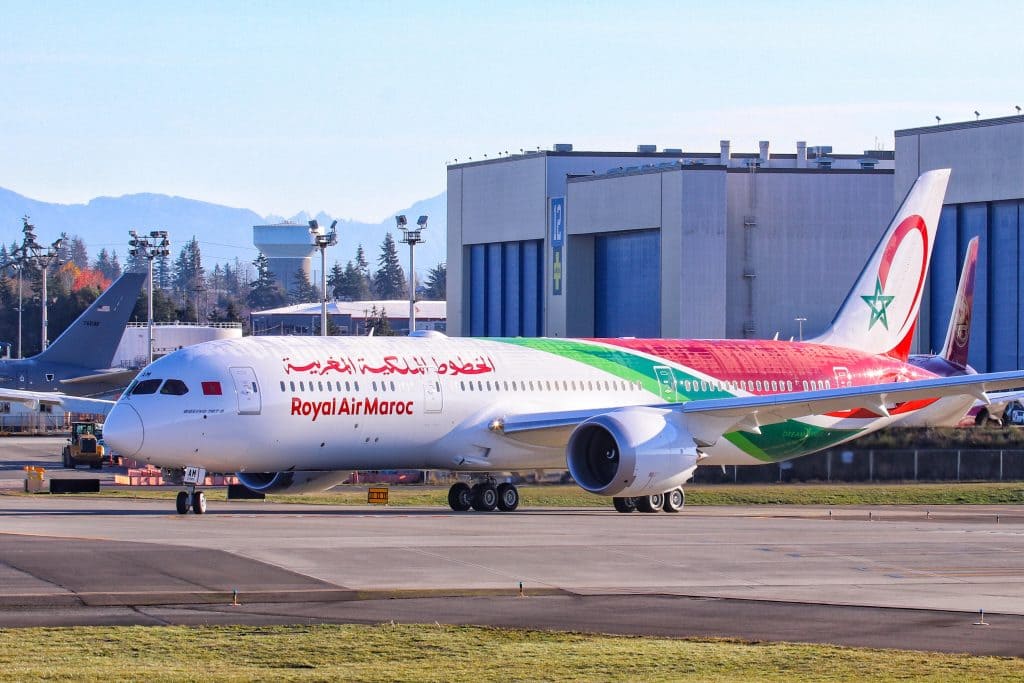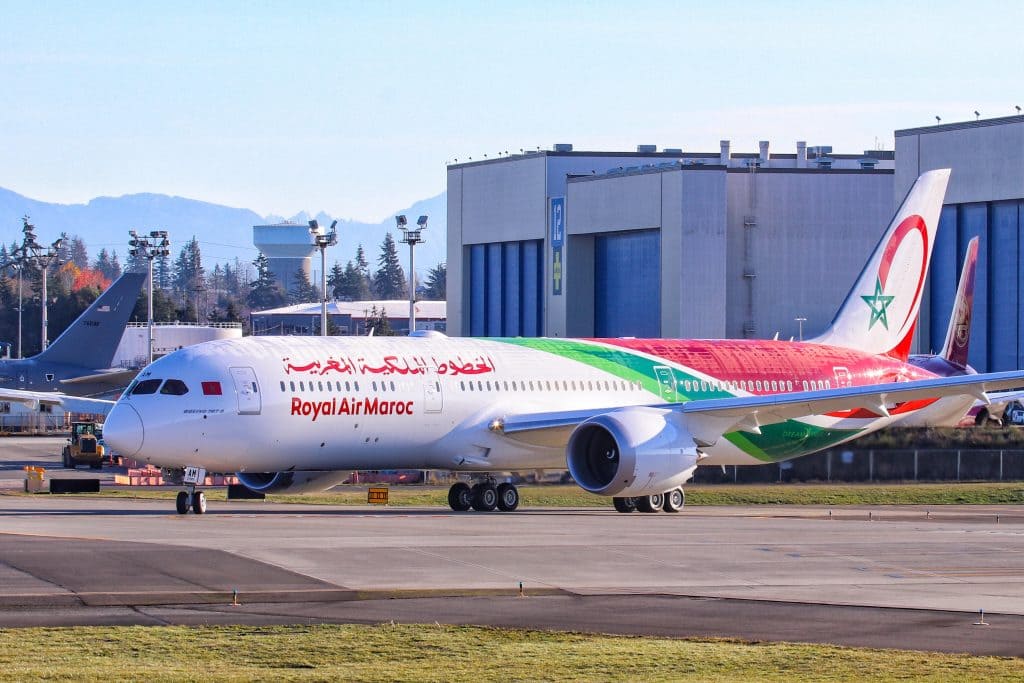 DAY 13: Airport transfer (End of the 13 days Morocco honeymoon itinerary) :
After breakfast, you will be collected from your hotel/Riad in Marrakech and transferred to the Airport either in Marrakech or Casablanca for your onward flight. Now ends your 13 days Morocco honeymoon itinerary.
NOTE: We recommend arriving at the airport 3 hours before your departure time, as the airport can get very busy.
What is included
in this 13 days Morocco honeymoon itinerary
Travel in a private air-conditioned 4WD or Minivan, with a professional, licenced English speaking driver/guide.

Airport Pick up and drop off.

WiFi hotspot in the car + 2 bottles of water each per day.

13 days / 12 nights accommodation with breakfast in beautiful 3, 4 or 5 star hotels / riads as you request.

ATV quad bikes, sand boarding

 

in Sahara desert and hot air balloon flight in Marrakech (Optional).

Official local guides in Chefchaouen, Volubilis, Fes and Marrakech.

Camel trek and overnight stay in a Sahara Desert camp.

Turbant (head wear) each for the camel trip in Sahara.

Dinner in (Day  6/7/8).

A visit to a local berber nomad family in Sahara.

All taxes and fees for this 13 days Morocco honeymoon itinerary.
What is not included
in this 13 days Morocco honeymoon itinerary
Travel insurance.

Flight ticket.

Snacks, drinks and incidentals.

Hotel services, such as room service or laundry service.

Tips and gratuities.

Personal expenses.

Meals not noted as included in this 13 days Morocco honeymoon itinerary.

Morocco Honeymoon itinerary 13 days