Discover the hidden treasures of south Morocco and its rich culture on this 3 days tour from Fes to Marrakech and Sahara.
Journey from Fes to Marrakech, to the mysterious Sahara Desert via the town of Ifrane "Switzerland of Morocco". Soak up breathtaking views of the Middle Atlas range & enjoy the largest Cedar forests of Azrou to glimpse Barbary Apes at play.
Witness the fabulous and largest Oasis in Morocco, in the Ziz Valley. Explore the remarkable fossil town of Erfoud on the way to the amazing Sahara. Camel trek through the orange Sahara dunes to experience a unique desert sunset and camp stay overnight under a starry sky. Visit the magnificent Todgha Gorge and the glorious Dades Valley.
On this 3 Days tour from Fes to Marrakech, you will discover exhilarating activities (Quad biking, Sand Boarding) to undertake in the shimmering Sahara dunes. Visit a nomad family and share a cup of tea with them. Journey through Dades Valley past astonishing and rare rock formations. Visit the scenic Oasis of Skoura and the dynamic 17th century mud brick Kasbah of Amridil. Visit Ouarzazate, "Hollywood of Africa" and excite your cinema interests. 
Experience Morocco's amazing iconic ancient UNESCO World heritage site of "Ksar Ait Benhaddou". Embrace the stunning High Atlas mountains and visit an intriguing women's cooperative to view the making of the World famous Argan Oil of Morocco.
TOUR ITINERARY
" Please click on each section below so that the details of each day of this 3 days tour from Fes to Marrakech will appear "
Day 1: Fes » Ifrane » Middle Atlas » Ziz valley » Sahara desert :
• After breakfast, your Grand Morocco Driver Guide will pick you up from your Hotel or Riad in Fes to begin your 3 days tour from Fes to Marrakech and your spectacular journey to the Sahara Desert region.
• Today, your tour begins towards the magical and legendary Sahara Desert, the largest hot desert in the world and where the undulating golden dunes glisten like gold in the sunlight. Travel dreams do come true and this visit to the desert may be one of yours.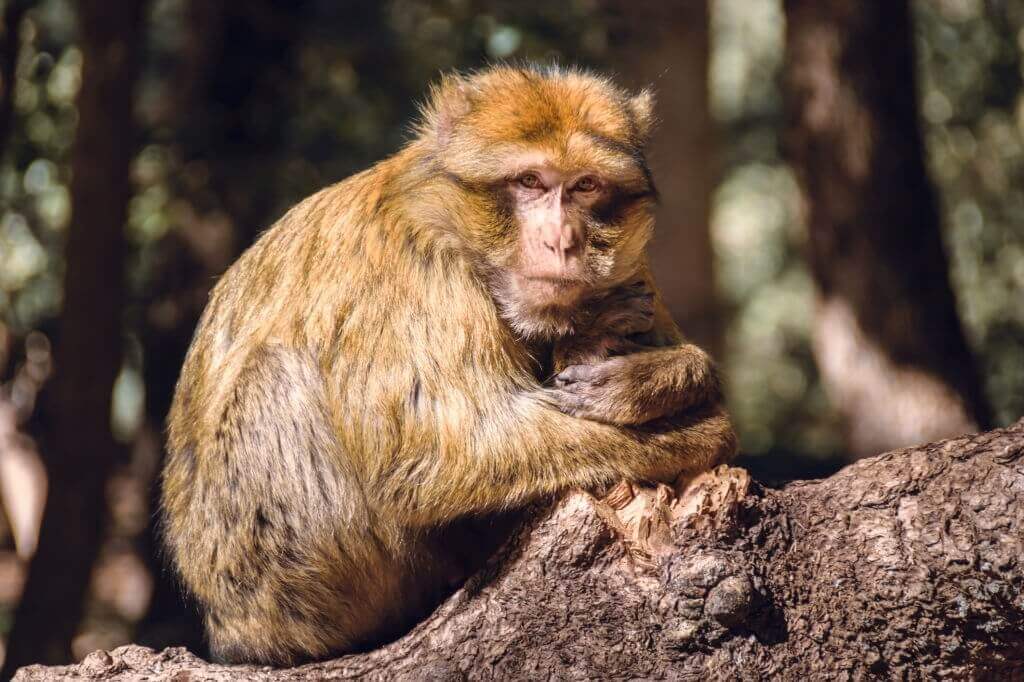 • After leaving Fes, you will travel to Ifrane known as the Little Switzerland of Morocco and stop for a break to enjoy its marvelous alpine landscapes.
• Ifrane is known for its mountainous terrain, altitudes to 1,664 M, and cold winter temperatures, -24 degrees C, measured in 1935, the lowest temperature in Africa. Skiing is a popular winter sport in Ifrane. it's charms never cease to amaze its visitors with the calm waves of its lakes, and the waterfalls pouring cold waters into the green valleys.
• You will become aware that this magical mountain town of Ifrane is one of the most beautiful cities in Morocco and features in the top 10 cleanest cities of the world. A beautiful place you will admire while on your 3 days tour from Fes to Marrakech.
• Navigate the green and superb Middle Atlas Mountains, marvel at the largest Cedar plantations in Africa and be captivated by the antics of the Barbary Apes. This species of Apes is found only in Morocco, Gibraltar and Algeria.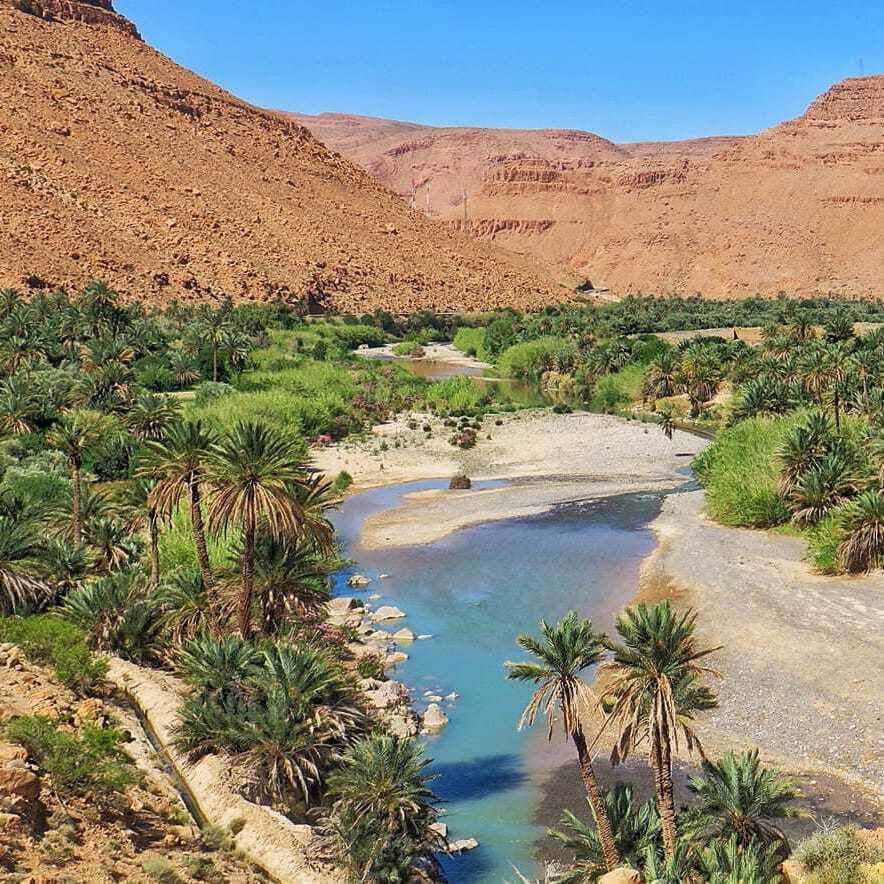 • Stop in Zayda town for lunch and enjoy a Moroccan tajine or some fresh barbeque. Drive through the scenic Middle Atlas Mountains and the striking Ziz Valley oasis, containing the largest palm grove oasis in Morocco.
• Observe a dense canopy of palms between ancient striated cliffs dating back to the Jurassic period.
• Continue travel to the eminent dunes of Erg Chebbi and experience the glory of the Sahara Desert. Erg Chebbi is regarded as the gateway to the Grand African Sahara and has some dunes considered the highest sand dunes in north Africa at 350 M elevation.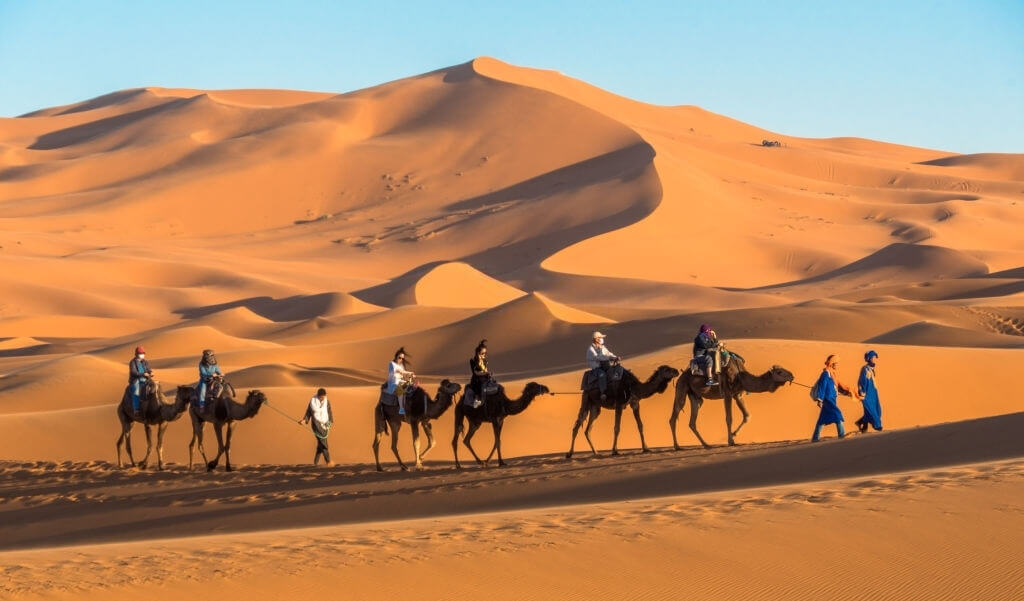 • Meet your Camel caravan and the experienced camel man, who will guide your trek to explore the mysterious Sahara sand sea, an alluring and a unique trek that will make your 3 days tour from Fes to Marrakech a memorable experience.
• Enjoy a charming sunset over the Erg Chebbi dunes and spend the night in a Berber desert camp. The evening will include dinner, followed by entertainment around the campfire, listening to traditional Berber drum music, having the experience of a lifetime under the milky way stars. This will captivate your heart and soul, not for a night but forever. "Sand boarding is available in the camp". (Overnight in Sahara Desert).
Day 2: Sahara » Rissani » Todgha gorges » Dades valley :
• Before sunrise, on waking, you may climb the sand dunes for a fantastic view of the amazing sunrise in the Sahara Desert, followed by a typical traditional Berber breakfast.
• Today, on the 2nd day of your 3 days tour from Fes to Marrakech and after having experienced a memorable night in the spectacular sand sea desert dunes of Sahara, we depart for the town of Rissani.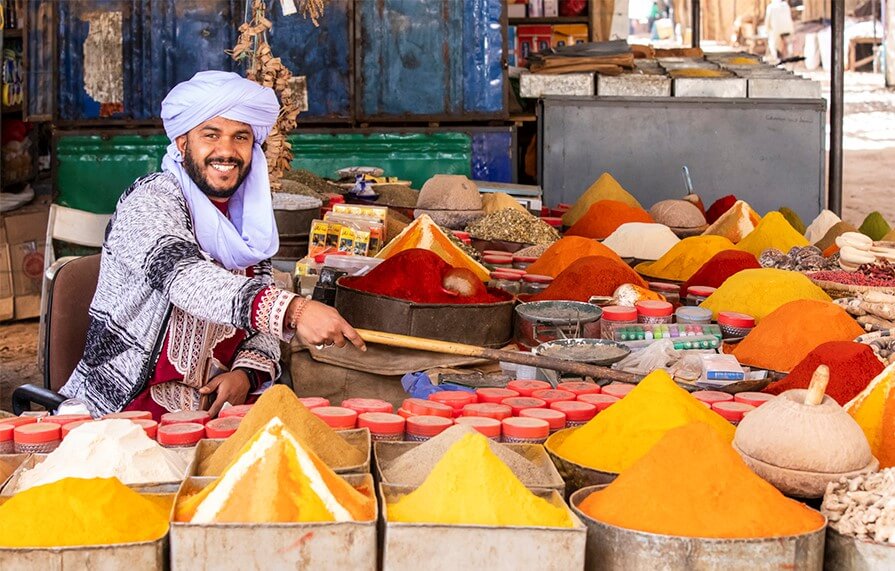 • This town was an ancient strategic cross roads destination on the trans-Saharan trade route linking Western Africa with Europe and Asia. It was a major camel caravan and commercial centre which gave great importance to the city from the 8th to 16th centuries.
• Caravans of up to 200,000 camels would arrive in Rissani each year, from many sub Saharan African countries, e.g. Mali, Ghana, Senegal, Niger, Sudan, all trading gold, ivory, local crafts, slaves and most importantly salt, which was sometimes used as trade currency and more valuable than gold at that time. Camels were first domesticated by the Native Berbers in north Africa, c.300 A.D. and the camel caravans traveled vast distances for long periods, up to 100 days to reach Rissani. They rarely traveled faster than the camel man's walking speed and their ability to withstand hard conditions made them ideal for communication and trade especially in the desert of Africa.
• Rissani is renowned for its cultural diversity of Berber, Arab and desert communities, all recognisable and differentiated by their clothing style and colours worn. Also, it is a diverse city and well known for its traditional markets / Souks, Tuesdays, Thursdays and Sundays, being the busiest shopping days for souvenirs, gifts, spices, crafts and jewelry such as silver. There is a live stock market for sheep, goats and donkeys, and traders in local fresh produce such as dates, olives, vegetables and many traditional items. It might be possible to stop here to explore these traditional markets and maybe taste some Moroccan sweet dates.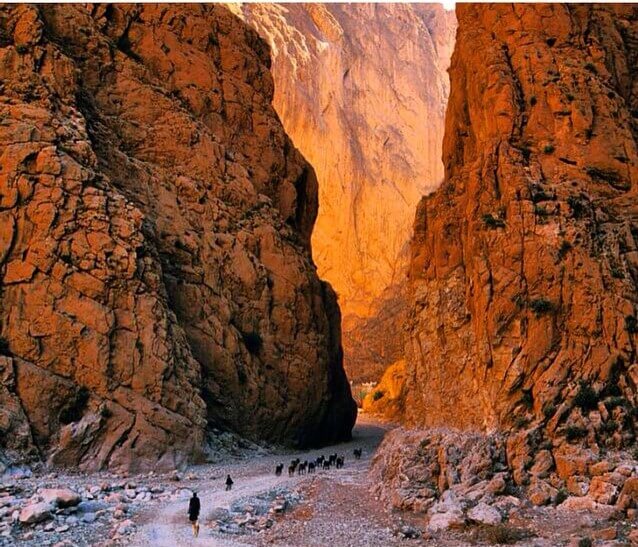 • Departing Rissani and continuing your 3 days tour from Fes to Marrakech, we will travel towards Tinghir, where we will deviate to a minor road following the river of Todgha Gorge. Contemplate the scenic panoramic views of the old Jewish and Berber mud villages, overlooking the valley. Some time at leisure to enjoy the immensity of the huge red cliffs, 400M elevation, where many international rock climbers come to enjoy their preferred sport.
• The Todgha Gorge is recognised worldwide for being one of the most spectacular rocky canyons. No wonder this place has been used for filming many movies due to its magnificent natural setting, one of the most famous movies being the "Mummy".
• In this area, lives a large community of Berber nomads. Sometimes, you can sight Berber nomad women, who have Berber tattoos on their faces. They may be seen herding their goats to drink water at the river's edge and collecting their own water which is carried by their mules back to the caves where they live. (a visit to a nomad family might be possible).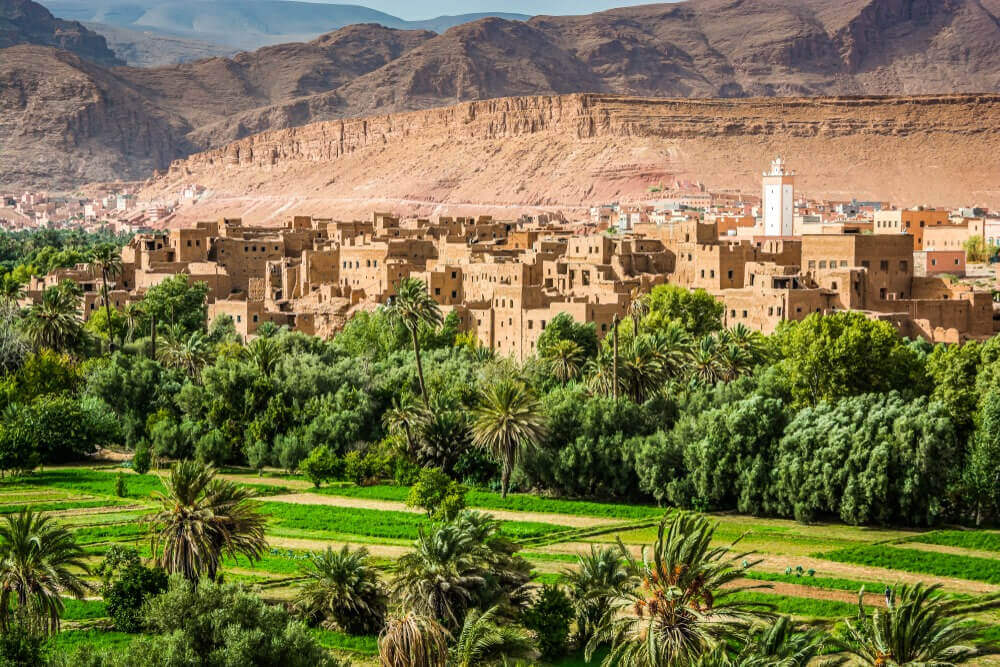 • After lunch, we continue our journey towards one of the most beautiful valleys in the Kingdom and enjoy colourful Berber mud villages overlooking the amazing Dades Valley. We will drive along the spectacular Dades Valley to reveal the amazing rock formations known as monkey toes or sometimes monkey fingers. These extraordinary rock formations are metamorphic rock which has been severely eroded by rain, water (which has produced a chemical breakdown of the rock), wind and possibly sand storms over thousands of years.
• The Dades Valley prides itself for the extensive production of roses, wall nuts, groves of palm and almond trees. It was the site of ancient nomad crossings and the valley is dotted with Oases and mud brick palaces known as kasbahs which gives the region its fairy tale nickname. Then it is time to arrive at your Riad / Hotel for a peaceful night in the Dades Valley. (Overnight in Dades valley).
Day 3: Dades valley » Rose valley » Ouarzazate » Ksar Ait Benhaddou » High Atlas mountains » Marrakech :
• After spending the night in the heart of the beautiful Dades Valley and on the 3rd day of your 3 days tour from Fes to Marrakech, you will start your journey by driving through the Rose valley and the town of Kalaat Mgouna, known as the Rose Capital, for Damaskina roses and for the annual festival during the rose harvest in May to choose Miss Rose of Morocco.
• Continue through the "Road of the thousand Kasbahs", the iconic Berber mud brick villages and earth castles to the "Oasis of Skoura".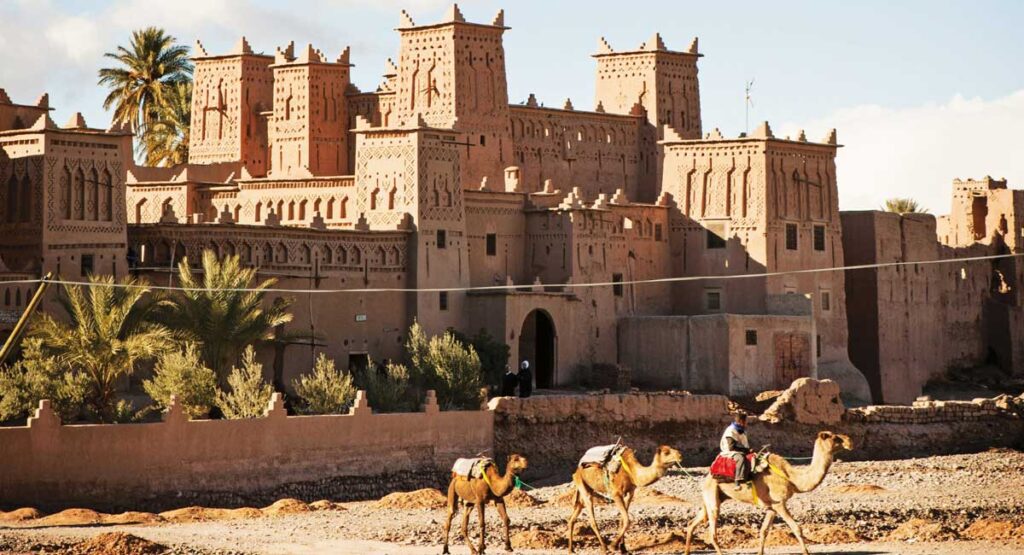 • This oasis is UNESCO protected and is famous for its numerous Majestic Kasbahs and here you will stop to visit the iconic 17th century Kasbah of Amridil, an ancient fortification providing visitors a glimpse into life in rural southern Morocco.
• Amridil Kasbah was founded over 300 years ago and is largely unchanged today. It is one of the living museums of Morocco and is the ancestral home of the Nasiri family. The present generation of the family live on site, have a museum of ancient Moroccan artifacts as part of the Kasbah.
• In ancient times camel caravans of gold, spice, slaves, salt and other cargo, off-loaded in Skoura, after many weeks trekking across the desert from several sub Saharan countries e.g. Mali, Senegal, Ghana and Asia. Today, Skoura's historic mud brick castles remain and traders still arrive with desert products, especially trading salt.
• Moving on, you may have an opportunity for photo stop at one of the many cinema studios as we now visit Ouarzazate. This city is known as the "Hollywood of Africa" and was a former caravan town on the silk and salt route in the eastern foothills of the High Atlas Mountains.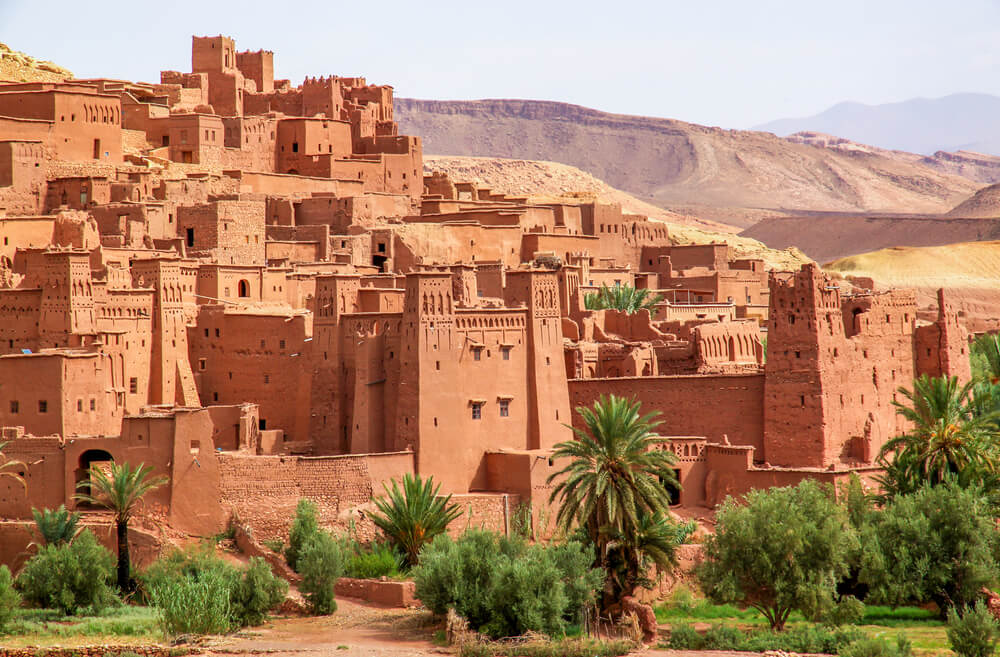 • Visit the spectacular UNESCO site of Ksar Ait Benhaddou, the most intriguing of the red earth castles and one of the most eye-catching filming locations featured in Game of Thrones, Gladiator, Prince of Persia, Indiana Jones, Kingdom of Heaven and more.
• This Ksar (village) is one of the most intriguing of the Red Earth Castles lining the ancient road of the old caravan traders and is the oldest mud village in Morocco. It was once a commercial hub for camel caravan traders. In 1987 UNESCO added the ksar to its World Heritage list for its impressive history and photogenic Southern Moroccan architecture.
• Visit a women's cooperative for making the world famous Argan Oil where you will see the process of extracting the oil from the Argan fruit. This will enrich your knowledge of the wonderful Argan tree, which grows only in Morocco.
• Travel over the wilderness and the dramatically beautiful landscapes of the High Atlas Mountains areas, passing through old scenic Berber mud villages and over the Tizi n Tichka pass at altitude 2,260 M. The journey continues to the magic city of Marrakech which was originally called Amur n Akuch, a Berber name meaning Land of God.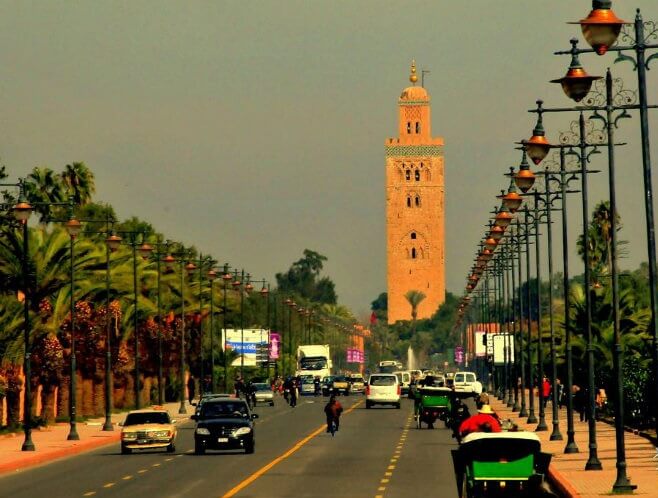 • Marrakech is one of Morocco's Imperial Cities, because at some time in the country's history, Marrakech was the capital of Morocco from 1071 A.D. for the following 2 centuries. Sometimes called the Red city because of the red walls surrounding its UNESCO listed Medina.
• Marrakech is a major tourist destination and home to many Kasbahs, Mosques, Palaces and gardens. The ancient Medina is a walled Medieval style city, dating to the Berber Almoravid Empire. It was founded in 1062 A.D. by Yusuf bin Tashfin and was the capital of the Almoravid powerful empire which covered a vast area from the grand Sahara, West/North Africa to Europe.
• Your amazing 3 days desert tour from Fes to Marrakech finishes and you will be transported to your Riad or Hotel in Marrakech. Check our range of Fes desert tours for more Morocco desert tours departing from Fes.
NOTE : For alternative arrival and departure locations for a Morocco tour or a Sahara Desert tour with us, please view our range of Morocco private tours departing from the city of Casablanca, Marrakech and from Tangier.
What is included
in this 3 days tour from Fes to Marrakech
Travel in a private air-conditioned 4WD or Minivan, with a professional, licenced English speaking driver/guide.

Pick up / drop off from and to your Hotel or Riad in Fes / Marrakech.

Wi-Fi Hotspot in the car + 2 water bottles for each per day.

3 days / 2 nights accommodation with Breakfast & Dinner

during this 3 days tour from Fes to Marrakech.

Sand Boarding and ATV quad biking in Sahara (Optional).

Overnight stay in a Desert camp and camel trek.

Turbant (head wear) each for the camel trek in Sahara.

Dinner & Breakfast in the Desert camp.

All fees and taxes for this 3 days tour from Fes to Marrakech.
What is not included
in this 3 days tour from Fes to Marrakech
Travel insurance.

Flight ticket.

Snacks, drinks and incidentals.

Hotel services, such as room service or laundry service.

Tips and gratuities during this 3 days tour from Fes to Marrakech.

Personal expenses.

Lunches.

3 Days tour from Fes to Marrakech and Sahara