Drive through the landscapes of the Atlas Mountains, explore the famous Ksar Ait Benhaddou and the hidden treasures of south Morocco on a 2 days desert tour from Marrakech to Zagora.
This 2 days desert tour from Marrakech to Zagora, involves an early start which will take you over the High Atlas Mountains & through the fascinating Tizi n' Tichka Pass to the picturesque city of Ouarzazate, known as the Hollywood of Africa. There will be a visit to the UNESCO listed unique Ksar Ait Bebhaddou en route and you will be enthralled by the journey through stunning valleys, oases & Berber villages along the luscious Draa Valley and Anti Atlas Mountains. An exciting camel trek into the desert, for an overnight stay in a Berber desert camp will complete a spectacular experience of your 2 days desert tour from Marrakech, in the Kingdom of Morocco.
Day 1 : Marrakech » High Atlas Mountains » Ksar Ait Benhaddou » Zagora Desert :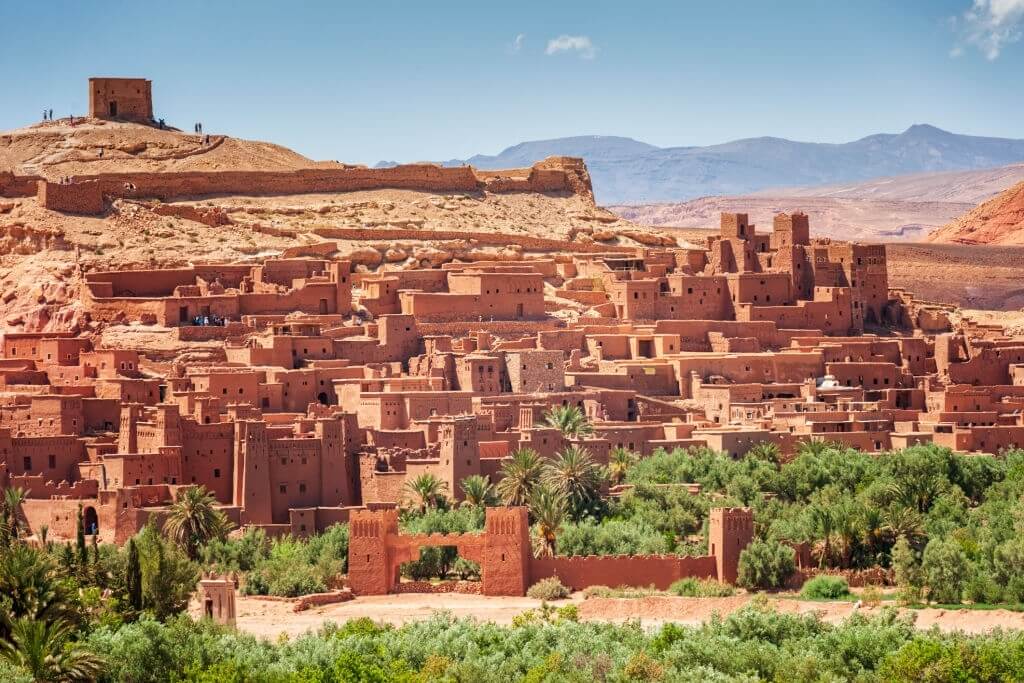 • At 07.00h, your Grand Morocco English speaking guide/driver will meet and pick you up from your accomodation in Marrakech. Begin your 2 days desert tour from Marrakech by crossing the High Atlas Mountains via the Tizi N' Tichka pass sighting Berber mountain villages at 2260 M, and be enchanted by the spectacular scenery of villages and green valleys en route to Ouarzazate.
• Stop for a guided tour to visit the ancient and the most filmed location in Africa, the 17th-century Ksar Ait Benhaddou. This mud village is a famous UNESCO World Heritage site and has some of the oldest Kasbahs in Morocco and was the meeting place for ancient camel caravans, trading in gold, ivory, salt, and slaves. It has been the backdrop for many international movies such as Gladiator, Game of Thrones and the Mummy…
• After lunch, we drive to Ouarzazate city known as the "Hollywood of Africa", where you will stop to visit the famous Atlas Film Studios for photo opportunities and learn more about some world famous hollywood actors and films which have been filmed here and take photos of the unique Moroccan scenery in the area.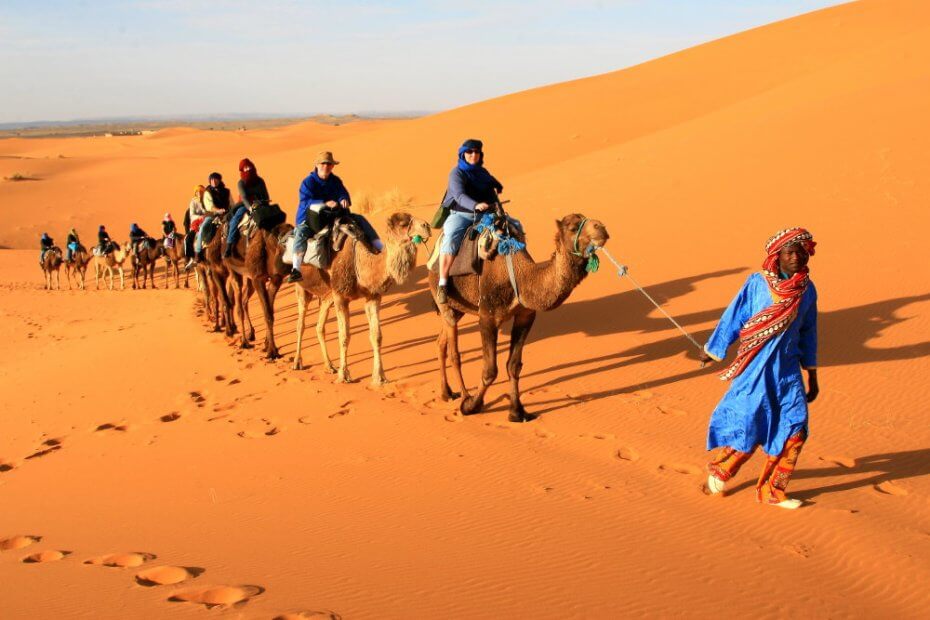 • Continuing on, passing the grandeur of the volcanic mountain range of Anti-Atlas to the Draa Valley via Adgz village. You will be mesmerized by the tranquil Oasis, green fields, and majestic palm groves for which this area is known.
• Once arriving at Zagora, you will take a camel ride before entering the dunes of the desert camp. Here you will witness the amazing desert sunset and an evening of sumptuous dinner while enjoying Berber traditional music around the campfire.
Day 2 : Zagora desert » Ouarzazate » Atlas Mountains » Marrakech :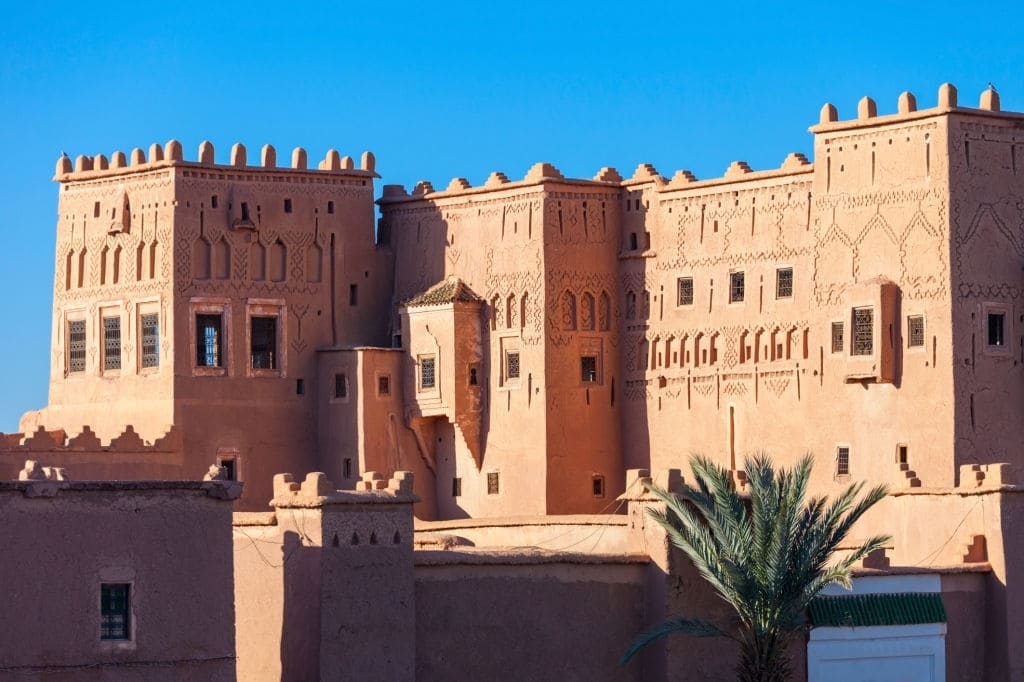 • On the 2nd day of your 2 days desert tour from Marrakech, wake early to enjoy a spectacular sunrise followed by a typical Berber breakfast. After breakfast you take a camel trek back to meet your guide / driver and vehicle.
• Your Adventure will now take you along the charming Draa Valley. The Draa Valley is a stunning oases, home to Berber villages along the Draa River, Morocco's longest river. This area has thousands of years of ancient history which you will explore with your guide driver. The valley is a mix of sand dunes, green fertile plains, river and palm trees.
• Visit the famous Mud-brick citadel of Kasbah Taourirt for a photo opportunity, situated against a backdrop of the Atlas Mountains. 
• Kasbah Taourirt is a large fortified Kasbah with several hundred rooms; was built in 19th century by Thami el Glaoui known as Lord of The Atlas, who had significant powers over the southern caravan routes to West Africa and who was the notable Pasha of Marrakech between 1912 to 1956. He is remembered for his role during French colonial rule in Morocco and his large extended family have lived in and maintained Kasbah Taourirt. UNESCO has supported the restoration of parts of the Kasbah.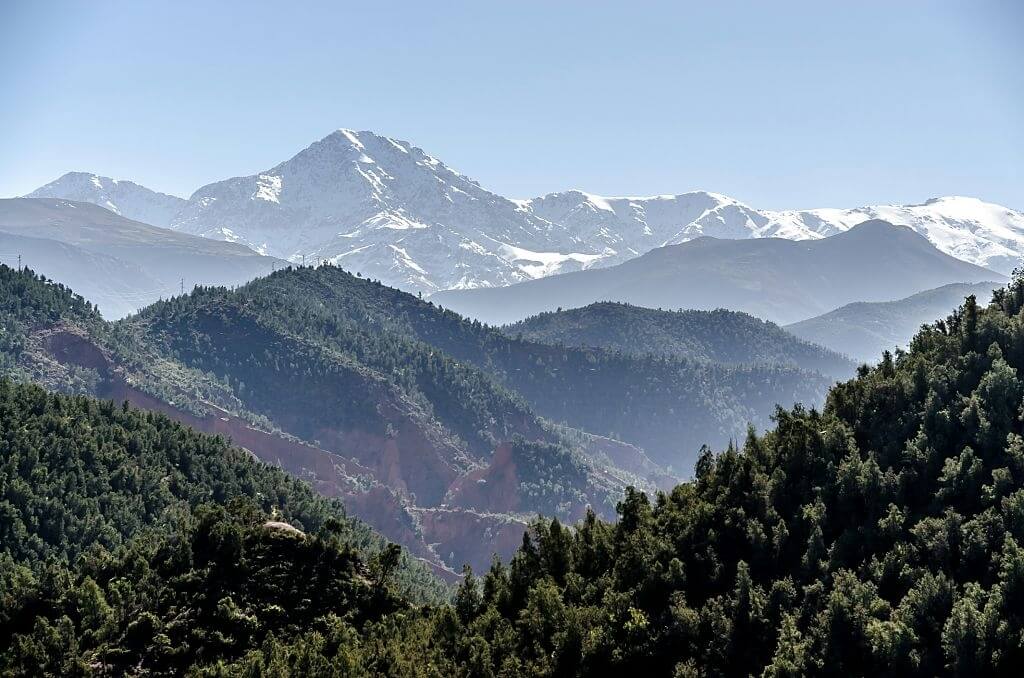 • You will return to Marrakech after lunch, by way of Tizi n' Tichka pass, over the High Atlas Mountains. These mountain peaks are covered with snow much of the year. The mountain range stretches over 2,500 KM (1,600 miles) through Morocco, Algeria and Tunisia.
• The range's highest peak is Toubkal, at an elevation of 4,167 metres (13,671 ft) just 2 hours south of Marrakech. You will be captivated by the landscape along the meandering roads through Berber mountain villages and stunning valleys.
• Return to Marrakech, you will be taken to your Hotel / Riad, as your 2 days desert tour from Marrakech tour ends.
NOTE : For alternative arrival and departure locations for a Morocco tour or a Sahara Desert tour with us, please view our range of Morocco private tours departing from the city of Casablanca, Fes and from Tangier.
What is included
in this 2 days desert tour from Marrakech
Travel in a private air-conditioned 4WD or Minivan, with a professional, licenced English speaking driver/guide.

Pick up / drop off from and to your accommodation in Marrakech.

Camel ride in Zagora desert dunes.

Turbant (head wear) each for the camel trek in the desert.

Overnight stay in a star lit Desert camp with dinner & breakfast.
WiFi hotspot + 2 water bottles for each per day.

All taxes for this 2 days Desert tour from Marrakech to Zagora.
What is not included
in this 2 days desert tour from Marrakech
Travel insurance.

Snacks, lunches, drinks and incidentals.

Tips and gratuities during this

2 days Desert tour from Marrakech to Zagora.

Things not noted as included.

Personal expenses.

2 Days Desert tour from Marrakech to Zagora