GRAND MOROCCO TRAVEL BLOG
10 Great reasons why you should visit Morocco !
by Grand Morocco Travel & Tours
Last updated : 7 November 2023
The world is filled with fascinating places to visit, and there will be a time when you have to choose which destination is right for you. We're not afraid to let you know, that, if you're looking for a vacation experience which encompasses adventure, culture, history and wilderness, you should look no further than Morocco.
Visit Morocco, a diverse country filled with majestic palaces, interesting museums, mouth-watering cuisine and large expanses of stunning natural landscapes and golden sand dunes.
Morocco is a country one must explore, a remarkable country to witness the real world of colour, mystique and intrigue, a country bursting with culture and history. Visit Morocco, the wonderland of Africa, where culture lovers, adventurers, families and all travelers find a destination like no other on our planet.
Still not convinced ? Here are 10 great reasons to Visit Morocco as your next vacation destination:
1) The imperial cities of Morocco: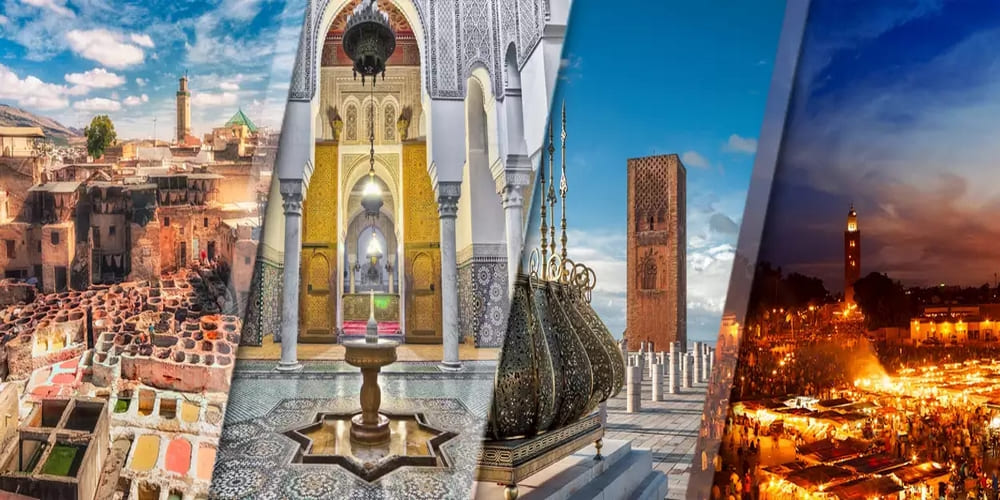 An Imperial city is one which, at a time in history, was the Capital city of the Kingdom of Morocco.
Rabat, Morocco's capital, while exhibiting modern styles, it houses many ancient attractions of historic interest such as the Kasbah of the Udayas, ancient Medina, the famous Hassan Tower and the Mohamed V Mausoleum, all worthy of a visit.
Marrakech, the red city owing to its ancient city red walls housing the ancient Medina of many meandering alley ways where one finds numerous, wondrous souks and market places. For your interest, are Badi Palace and Bahia Palace, the stunning Koutoubia Mosque, the Saadian Tombs and the bustling Djemaa el-Fna, when you visit Morocco.
Fez, will reveal a magnificent large and ancient tannery, the world's oldest and still working university, a sensational Medina and other iconic attractions, when you visit Morocco.
Meknes is a delightful university city. It boasts Morocco's most beautiful and impressive Bab Mansour gate and arches full of mosaic work and the Mausoleum of Sultan Moulay Ismail.
2) Beaches of the Atlantic Ocean and the Mediterranean Sea: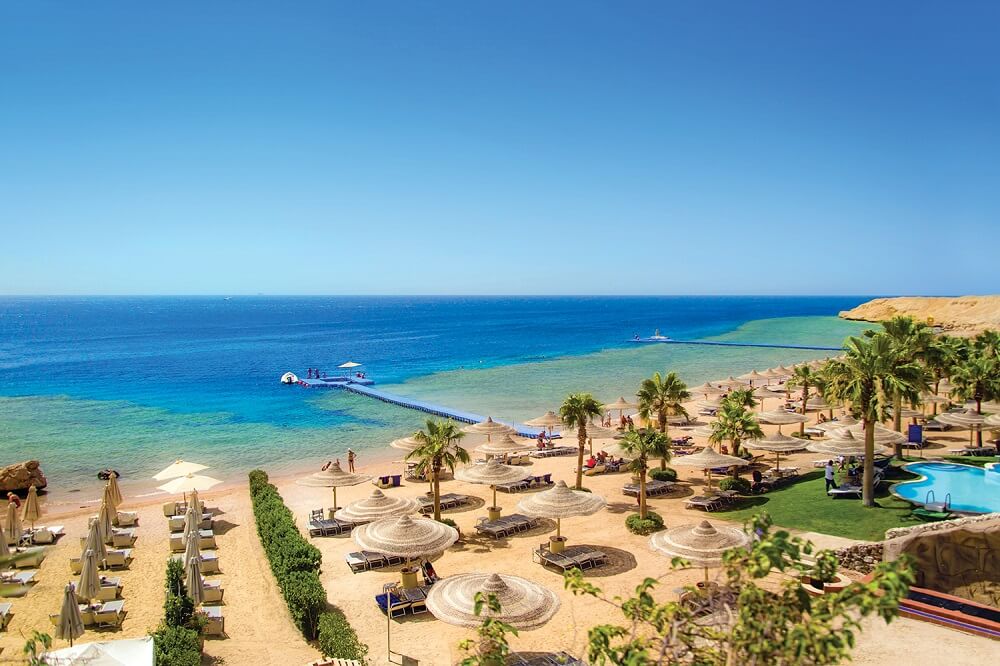 The west coast and northern shore line of Morocco are picturesque and somewhat beautifully rugged with pristine beaches. Both areas provide the ideal serene relaxation for a beach holiday which includes some water sports. International attractions are the cities of Tangier, Essaouira, Agadir and more at a domestic level, Asilah, El Jadida, Oualidia, Dakhla and El Jebha. All coastal delights are a 'must do' when you visit Morocco.
3) Wilderness and natural wonders of the mountain ranges: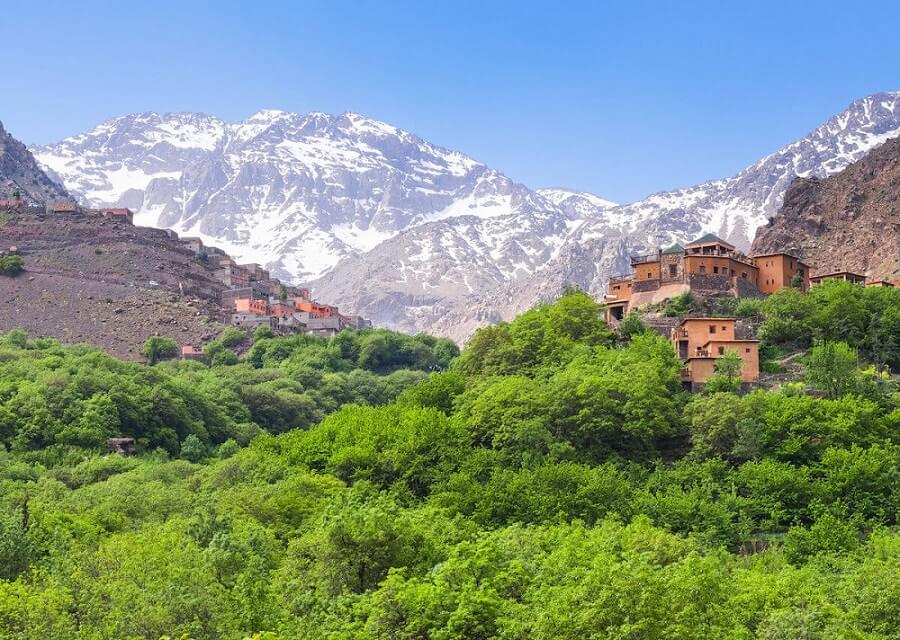 The imposing Atlas Mountains range of Morocco, High Atlas, Middle Atlas and the Anti Atlas, all represent a sublime natural beauty to entice one to visit Morocco.
The highest giant peak is Toubkal mountain (highest in North Africa and 2nd highest in Africa) 4,167M, (13,671ft). The high Atlas range is located 60 Km from Marrakech and provides many outdoor activities all year round, such as hiking, horse riding and mountain biking, as do the other ranges, when you visit Morocco. Also experience resplendent landscapes and beautiful Berber mountain villages. In the north the Rif range, close to Chefchaouen, provides much outdoor activity.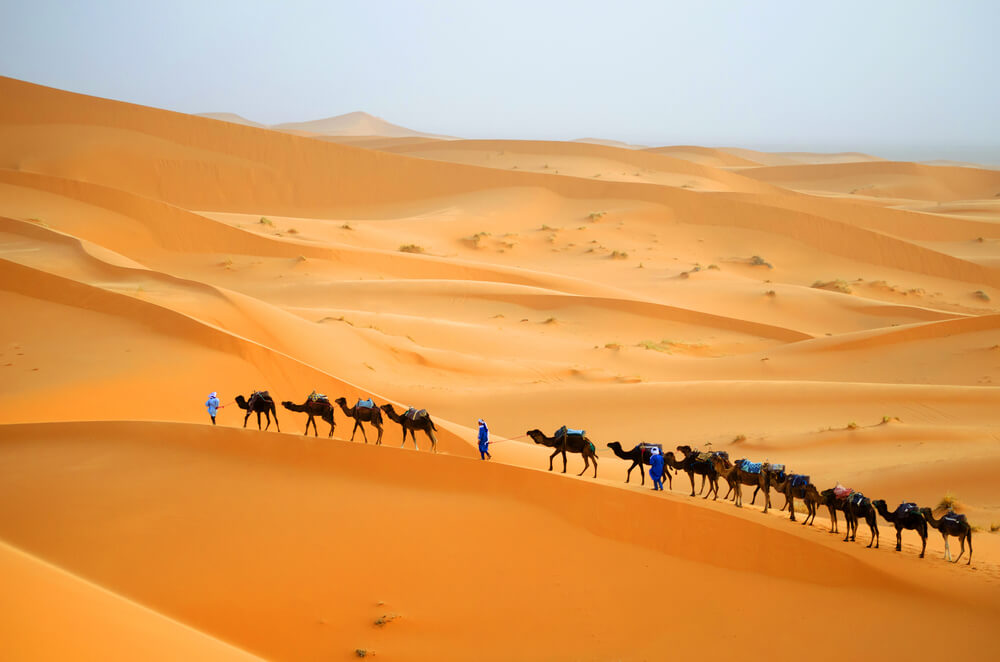 The world's largest hot desert, the Sahara Desert, attracts many expeditions from many starting towns. This trek will take you to the great iconic Sahara Desert adventure, when you visit Morocco. There are choices of modes of desert travel e.g. camel train, foot trekking, horseback and 4×4 wheel drive across the undulating dunes. Camping is a popular desert experience and a magical night in a Berber desert camp should not be missed while in the Sahara region. Fulfill dreams and visit Morocco.
Sahara towns in Morocco are Merzouga, Erg Chebbi, Zagora, all are important entry towns to the Sahara desert, with Ouarzazate on the way. Known as the gateway to the desert, Ouarzazate is where you begin to fulfill your dreams, to visit Morocco and experience the Sahara Desert.
Ouarzazate has the distinction of culture and film making. There is also a most impressive red earth Kasbah, UNESCO listed Ksar Ait Benhaddou which has been featured in many international movies such as Game of Thrones, Gladiator, Indiana Jones & Prince of Persia…
Located close to Ouarzazate is Noor, the world's largest concentrated thermal solar power complex.
5) Mixed race and cultural influences: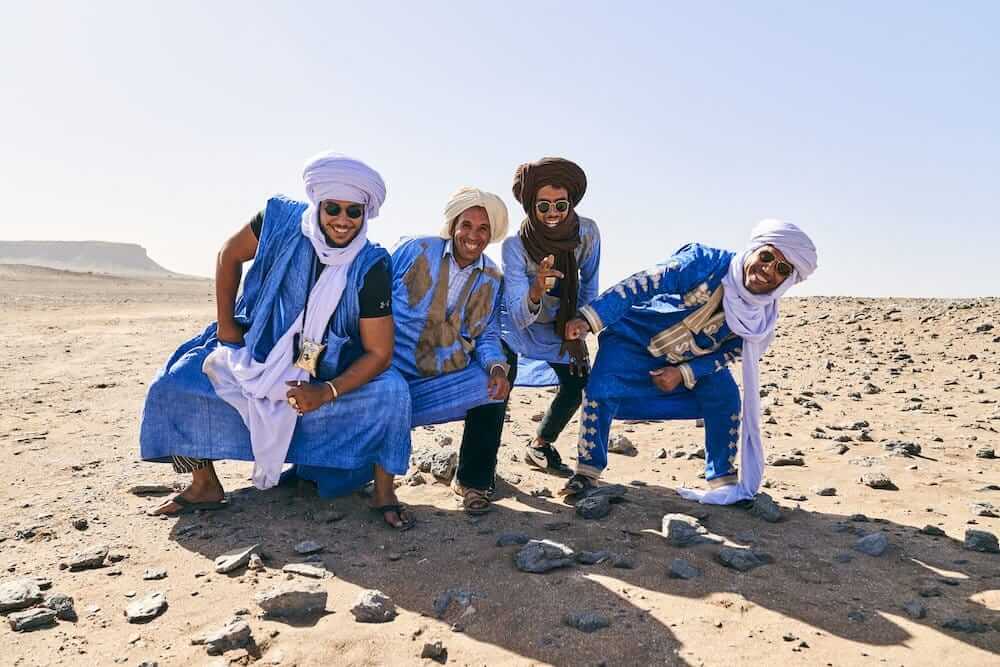 While Morocco is a blend of mainly Berber (indigenous inhabitants of North Africa) and Arab cultures there are legacies from colonial times e.g. French, Portuguese, Spanish and the Jews. The only Jewish museum in the Muslim world is in Casablanca. This diversity is reflected through many aspects of Moroccan life, namely the languages, the clothing, the cuisine and the culture, all of which can be experienced when you visit Morocco.
Traveling from region to region in Morocco might seem more like traveling from country to country. For the diversity of culture from one city to the next is striking. However, in general, Morocco can be divided into two main cultures: Berber and Arab and each one has its own charm. When you visit Morocco, you will definitely not be bored, as with every step you take, you are bound to discover Morocco's eclectic heritage.
6) Culture and architecture of an ancient kingdom: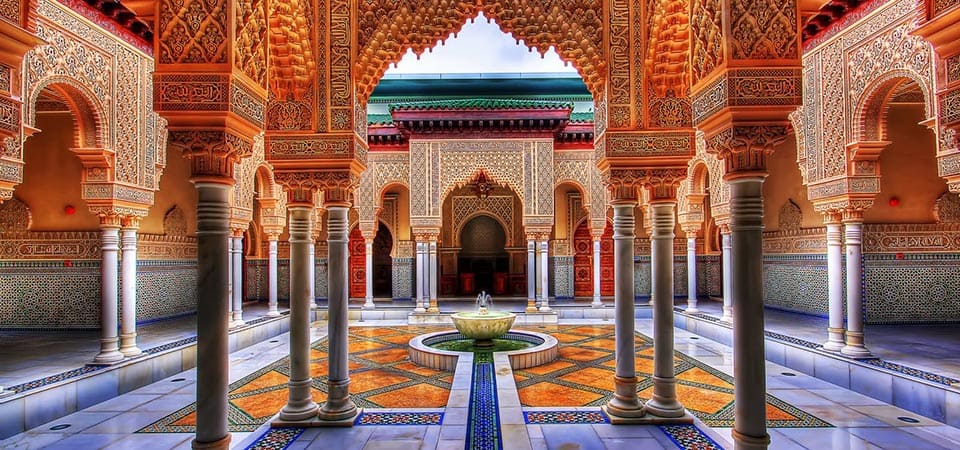 Throughout Morocco can be seen architectural evidence of the historic diversity of the land. From ancient majestic mosques, beautiful old Riads, Medinas and souks to very few old Christian churches and synagogues. The magic and mystique of the Kingdom will come to life when you visit Morocco.
Ancient crafts such as mosaic tiling (Zellige), ornately carved woodwork and plaster work provide a marvelous vista in cities and countryside. Beautiful icons which should not be missed are the Hassan II mosque in Casablanca, the University of Al Qarawiyyin in Fes, the Grand mosque in Tangier and the Saadian tombs in Marrakech.
7) Shopping in Morocco's Wondrous Souks, when you visit Morocco: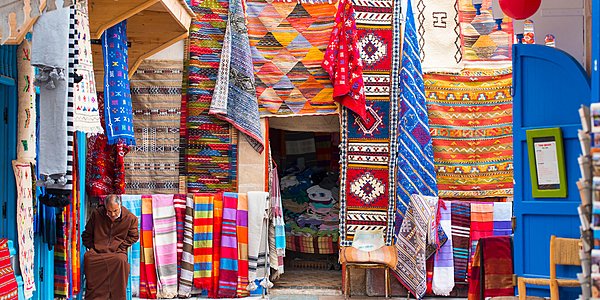 Souks or traditional Moroccan markets are a traveler's dream and a total draw-card for browsing the colourful stalls and searching out unusual Moroccan wares. Some towns operate their souks and markets on certain days, while in the major cities the Souks cum markets function each day. When you visit Morocco, you will capture the most exotic aromas, take in the most vivid colours and discover a multitude of goods such as brass ware, clothing, leather, jewellery, carpets, spices, musical instruments and a myriad of Moroccan souvenirs. Bargaining is a traditional part of Souk life.
8) Delectable Moroccan cuisine to tantalise your appetite: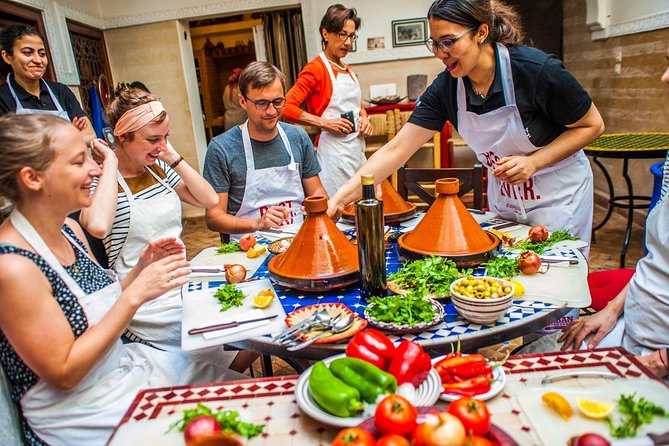 Meats are a common component of traditional Moroccan cuisine. Lamb, beef and chicken with coastal areas providing fish, are staple foods in Morocco. A wonderful array of vegetables with meats are traditionally cooked in a tajine. All meals are eaten with breads and one can indulge in delicious and rich cuisine when you visit Morocco.
There are many other mouth watering Moroccan dishes to sample along with delicious pastries. Other famous Moroccan foods to taste are Couscous, Moroccan chicken, Bastilla, Rfissa, Harira, Mechoui, Bissara, zaalouk…etc.
9) Scope of accomodation: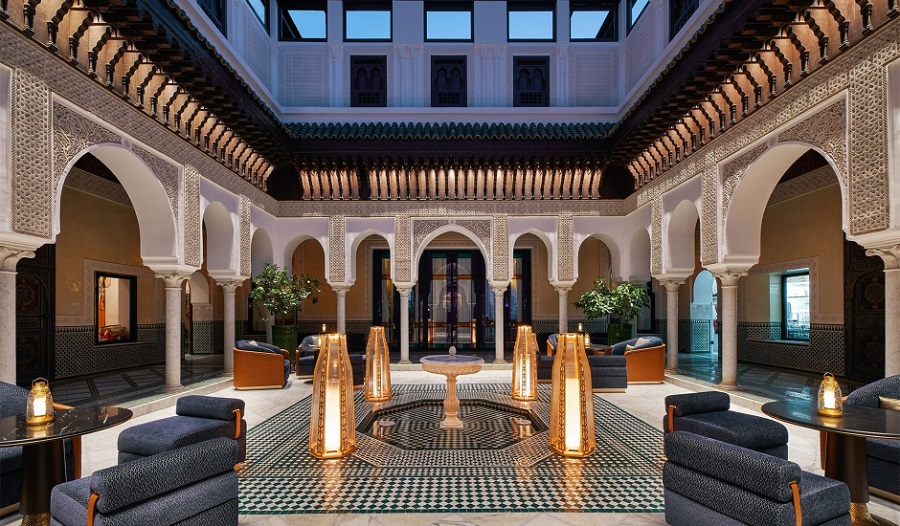 With traveler's budgets in mind, Morocco offers a range of suitable accommodation, when you visit Morocco, from luxury hotels, Riads to basic camp sites, charges are appropriate to the level of accommodation chosen. Also self-catering apartments are available for rental in larger towns and cities.
In the large coastal cities such as Agadir and Tangier, large holiday resorts are available with amenities such as swimming pools, gymnasiums, restaurants and bars.
10) Berber society – tolerant and friendly people: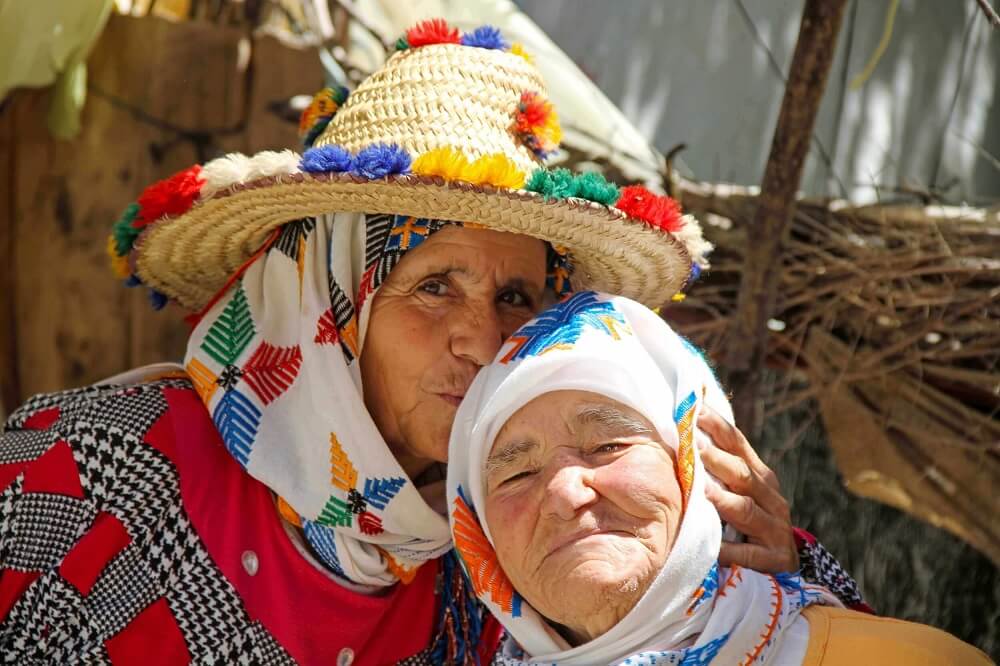 Morocco is one of the most tolerant and accepting of nations in the Islamic world. This beautiful country is as safe as any world country in which to travel, as you will find when you visit Morocco, the Berber and Arab communities are relaxed, warm and friendly, speaking their own languages (Berber & Arabic) and French, with only a little English spoken. This is improving as English is now taught in senior school and is recognized as being the international language.
MOROCCO TOUR PACKAGES
Select Your Destination And Get Inspired By Trips Other Travelers Have Loved.
.